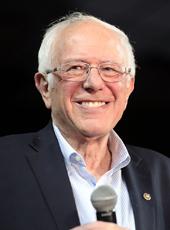 Sanders Campaign Press Release - Sanders Campaign Statement on Clinton Falsehoods
MANCHESTER, N.H. – Bernie Sanders' campaign manager, Jeff Weaver, issued the following statement in response to false claims by the Clinton campaign:
"It is very disturbing that, as the Clinton campaign struggles through Iowa and New Hampshire, they have become increasingly negative and dishonest. No, Bernie Sanders will not dismantle health care programs in America. He believes in health care for all. No, Bernie Sanders is not 'attacking' Planned Parenthood. He believes Planned Parenthood is an outstanding organization and wants to increase its funding. No, Bernie Sanders is not 'protecting' the gun lobby. He has a D- record from the NRA.
"Today's attack from Secretary Clinton, whose super PAC received $15 million from Wall Street, is even more absurd. Bernie Sanders, who has never accepted corporate PAC money in his life, is now accused by Secretary Clinton of taking 'about $200,000 from Wall Street firms.' How do they reach that false and absurd conclusion? They assume that every nickel Bernie Sanders received from the Democratic Senatorial Campaign Committee for his Senate campaign came from Wall Street. That is obviously preposterous.
"Bernie appreciates the help he has gotten from the DSCC, whose funds come from millions of Americans' individual contributions, labor organizations, environmental groups, women's organizations and others. To say that every nickel that Bernie received came from Wall Street is beyond preposterous. It is laughable and suggests the kind of disarray that the Clinton campaign finds itself in today."
Bernie Sanders, Sanders Campaign Press Release - Sanders Campaign Statement on Clinton Falsehoods Online by Gerhard Peters and John T. Woolley, The American Presidency Project https://www.presidency.ucsb.edu/node/314787