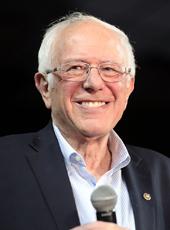 Sanders Campaign Press Release - Sanders' Campaign Raises $20 Million in January, FEC Report Showcases Small-Dollar Fundraising Power
CEDAR RAPIDS, Iowa – More than $20 million – almost all from online contributions averaging about $27 apiece – was donated to Bernie Sanders' presidential campaign in January during the run-up to Monday's Iowa caucuses.
In another powerful demonstration of Sanders' growing grassroots backing, the more than 770,000 individual contributions in January pushed the total number of donations for his entire campaign past the 3.25 million mark. That's a record at this point in the campaign for any White House candidate.
Unlike other campaigns which rely heavily on wealthy donors who give the maximum allowed by law, more than 99.9 percent of Sanders' donors can give again. In sharp contrast, Federal Election Commission reports indicate that more than 3 in 5 dollars given to Hillary Clinton come from donors who already have given her the maximum allowed by law.
"The numbers we've seen since Jan. 1 put our campaign on pace to beat Secretary Clinton's goal of $50 million in the first quarter of 2016," said Jeff Weaver, Sanders' campaign manager. "Working Americans chipping in a few dollars each month are not only challenging but beating the greatest fundraising machine ever assembled."
While the Sanders campaign is supported by millions of small-dollar contributions, Clinton left the campaign trail in Iowa one day last week to hold a fundraiser in Philadelphia sponsored by leading executives of a large investment firm. It's not yet known how much she added at that event to her reported $17 million in campaign contributions over the years from Wall Street and financial services interests.
Sanders also has refused to coordinate with a super PAC which Clinton and other candidates have used to take unlimited contributions from millionaires and billionaires. For example, Priorities USA Action, a super PAC backing Clinton, claimed on Friday to have nearly $45 million cash on hand. Donors have pledged at least $42 million in additional contributions that would give her a bigger super PAC war chest than any Democratic fund ever before.
"As Secretary Clinton holds high-dollar fundraisers with the nation's financial elite, our supporters have stepped up in a way that allows Bernie to spend the critical days before the caucuses talking to Iowans about his plans to fix a rigged economy and end a corrupt system of campaign finance," Weaver said. "Bernie's campaign is built for the long haul and we look forward to bringing his message to voters all across the nation, and to drawing millions of new people into the Democratic Party primary process," he added.
Sanders' campaign on Sunday will file a year-end Federal Election Commission report showing that almost $33.6 million was raised in the fourth quarter of 2015. Seventy percent came from contributors giving $200 or less. Only 1.3 percent of the campaign's fourth quarter donations came from maxed-out contributors.
While the Clinton campaign has not released information about the breakdown of its campaign contributions, its most recent report indicated that only 17.4 percent of the money raised came from small-dollar, un-itemized contributions. Her third quarter report indicated that about 60 percent of her money came from donors who already have contributed the maximum allowed by law and may not give again to her primary campaign.
To read the report, click here.
Bernie Sanders, Sanders Campaign Press Release - Sanders' Campaign Raises $20 Million in January, FEC Report Showcases Small-Dollar Fundraising Power Online by Gerhard Peters and John T. Woolley, The American Presidency Project https://www.presidency.ucsb.edu/node/326280