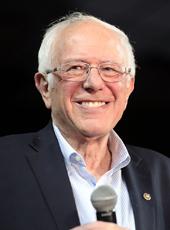 Sanders Campaign Press Release - Sanders Calls for Tuition-Free Public Higher Ed at Chicago State
CHICAGO – U.S. Sen. Bernie Sanders – who has called for tuition-free public colleges and universities – spoke on Thursday at Chicago State University on a campus struggling through a higher education budget crisis that has nearly dried up state funding.
Illinois colleges and universities have not received operating money from the state since July 1 while state lawmakers battle Gov. Bruce Rauner over budget cuts. As a cost-cutting measure, Chicago State on Tuesday accelerated the semester cancelled spring break.
"This great university is being threatened with cuts. What is going on in America? Where are our priorities?" Sanders asked in an address to 6,500 supporters.
During his speech at the South Side campus ahead of Illinois' March 15 presidential primary, Sanders also highlighted key differences with Hillary Clinton.
On foreign policy, he cited his vote against the war in Iraq in 2003. She voted for it.
On trade, he listed his record of opposition to job-killing trade deals like the North American Free Trade Agreement. She supported a string of corporate-crafted trade deals that have closed factories and driven jobs to low-wage nations overseas.
On gay rights, he cited his opposition in 1996 to the Defense of Marriage Act. She supported the anti-gay bill that denied federal recognition of same-sex marriages.
On poverty in America, Sanders has detailed proposals to reduce poverty and blamed an increase in part on a 1996 welfare reform bill he called "an assault on the poor, women and children, minorities and immigrants." She supported the 1996 legislation.
On campaign finance reform, Sanders has rejected funding by super PACs and relied on more than 4 million donations averaging $27 apiece. She has coordinated with super PACs, including one that took $25 million in the past six months of last year from special interests, including $15 million from Wall Street.
Sanders' stop on the South Side of Chicago came on a day that began with a rally outside Cleveland, Ohio, and included a stop in Flint, Michigan. He has crisscrossed the country this week making stops in South Carolina, where Democrats vote on Saturday, and to many of the 11 states holding primaries and caucuses on Super Tuesday, March 1.
Bernie Sanders, Sanders Campaign Press Release - Sanders Calls for Tuition-Free Public Higher Ed at Chicago State Online by Gerhard Peters and John T. Woolley, The American Presidency Project https://www.presidency.ucsb.edu/node/315444