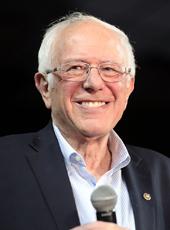 Sanders Campaign Press Release - Sanders Calls for Nationwide Ban on Fracking, New TV Ad Spotlights Dangers
BINGHAMTON, N.Y. – U.S. Sen. Bernie Sanders on Monday contrasted his call for a nationwide ban on fracking to Hillary Clinton's shifting stand on the extreme and risky method of drilling for oil and gas.
Sanders also began airing a new television ad on fracking calling him the only candidate for president who would ban fracking everywhere.
"The growing body of evidence tells us that fracking is a danger to our water supply, our most precious resource. It is a danger to the air we breathe. It has resulted in more earthquakes. It is highly explosive. And it is contributing to climate change," Sanders told 5,000 supporters inside Veterans Memorial Arena here in the Southern Tier region of New York known as the "fracking belt."
New York and Sanders' home state of Vermont have banned fracking. There's a moratorium on the drilling technique in Maryland. "I want to applaud you for standing up to Gov. Cuomo and demanding that New York state ban fracking," Sanders told the audience. But he added: "If we are serious, we need to put an end to fracking not only in New York and Vermont but all over this country."



The toxic chemicals used in fracking are known to cause cancer and birth defects, he said. "We cannot, we must not allow our children to be poisoned by toxic drinking water just so a handful of fossil fuel companies can make even more profits," Sanders added.
Sanders also noted that Clinton promoted fracking overseas when she was secretary of state. He called their records on fracking and other environmental issues one of the "very important differences" between the candidates for the Democratic Party presidential nomination.
He also noted other differences with Clinton on climate change and the environment. Sanders led the fight to stop the Keystone XL pipeline to transport "some of the dirtiest fuel on the planet" from Canada's tar sands region to Gulf Coast refineries. She was a latecomer to opposing the controversial pipeline's construction. He has introduced legislation calling for a carbon tax to discourage use of greenhouse-gas emitting fossil fuels that cause climate change. She doesn't support a carbon tax. He consistently opposed offshore drilling. Clinton has not. He would end leases for the extraction of fossil fuel on public lands. Clinton would not.
"If we are going to leave this planet in a way that is healthy and habitable for future generations we need bold action now," Sanders said.
Meanwhile, the new TV ad released Monday was called "No Fracking Anywhere."
"Do Washington politicians side with polluters over families?" asks Susan Sarandon in the 30-second spot. "They sure do, because Big Oil pumps millions into their campaigns. Bernie Sanders is the only candidate for president who opposes fracking everywhere."
According to public records and disclosures, $1 of every $15 contributed to the pro-Clinton super PAC Priorities USA Action came from fossil fuel interests. Lobbyists with deep ties to Exxon, BP and TransCanada have also bundled thousands of dollars for Clinton's campaign directly.
"Bernie," the ad concludes. "He can't be bought by them, because he's funded by you."
Bernie Sanders, Sanders Campaign Press Release - Sanders Calls for Nationwide Ban on Fracking, New TV Ad Spotlights Dangers Online by Gerhard Peters and John T. Woolley, The American Presidency Project https://www.presidency.ucsb.edu/node/318271