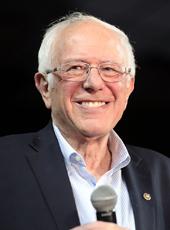 Sanders Campaign Press Release - Sanders Calls for Early Presidential Debates
U.S. Sen. Bernie Sanders on Sunday called for a series of debates beginning this summer involving Democratic presidential candidates to flesh out their positions on key issues like trade policy and global warming.
He also proposed debates with Republican White House hopefuls to highlight policy differences between the major parties on core issues like how to create jobs, address income inequality, provide health care and expand Social Security.
In an interview on NBC's "Meet the Press" with moderator Chuck Todd, Sanders said early debates would help voters understand candidates' positions on important issues. "When we talk about the important issues, Chuck, we need a lot more debates in this campaign. I hope very much that we can begin with the Democratic candidate debates as early as July and have some Republicans in those debates as well," he said.
Debates could help voters understand, for example, how candidates may differ on a proposed 12-nation Pacific Rim trade deal now before Congress. Sanders opposes the Trans-Pacific Partnership because he believes it would cause more U.S. manufacturing plants to close and result in the transfer of millions of jobs to low-wage nations like Vietnam, where the minimum wage is 58-cents an hour.
Debates also could clarify where candidates stand on whether to promote the use of the dirtiest oil on the planet from Canada's tar sands region by constructing a pipeline to ship the crude oil from Alberta to U.S. refineries along the Gulf of Mexico. Sanders opposes the pipeline.
Early debates involving both Democrats and Republicans also could revive interest among ordinary voters in the democratic process. One way to get disillusioned voters to participate in elections would be to make it clear that there are major differences between a progressive agenda and the reactionary platform of the Republican Party. That is why Sanders suggested debates including Republican candidates as well as his Democratic rivals for the nomination.
Bernie Sanders, Sanders Campaign Press Release - Sanders Calls for Early Presidential Debates Online by Gerhard Peters and John T. Woolley, The American Presidency Project https://www.presidency.ucsb.edu/node/315019