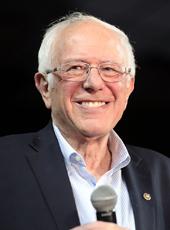 Sanders Campaign Press Release - Sanders Calls on Clinton to Support American Workers
CEDAR RAPIDS, Iowa – U.S. Sen. Bernie Sanders on Sunday urged former Secretary of State Hillary Clinton to take a stand against a proposed 12-nation trade agreement which backers are expected to try to resurrect this week.
"Corporate America and Wall Street are going to bring that bill back to the House. I would hope very much that Secretary Clinton will side with every union in the country, virtually every environmental group and many religious groups and say that this TPP [Trans-Pacific Partnership] policy is a disaster, that it must be defeated and that we need to regroup and come up with a trade policy which demands that corporate America starts investing in this country rather than in countries all over the world," Sanders said on the CBS News program "Face the Nation." "I look forward to working with Secretary Clinton on this issue," he added.
"There is no question that what our trade policy has been for many years is to allow corporate America to shut down plants in this country, move abroad, hire people at pennies an hour and then bring their products back to the United States. It is a failed trade policy and I would hope that the secretary joins Elizabeth Warren, Sherrod Brown and the vast majority of Democrats in the Congress in saying, 'No. We've got to defeat this piece of legislation,'" Sanders told John Dickerson.
Clinton's support could be decisive, the senator added in a statement after the interview. "If she joins us, we could stop this disastrous deal once and for all," he said.
Some 60,000 factories and millions of good-paying jobs have been lost in the United States since 2001. "I'm not saying trade is the only reason but it is a significant reason why Americans are working longer hours for lower wages and why we have seen our jobs go to China and other low-wage countries," Sanders said.
The House of Representatives on Friday derailed the deal in a vote which may be only a temporary victory for American workers. Supporters of the Trans-Pacific Partnership – multi-national corporations, Wall Street and pharmaceutical companies – are sure to try again this week to give President Barack Obama fast-track authority to negotiate an agreement that could be passed by an up-or-down vote in Congress.
Bernie Sanders, Sanders Campaign Press Release - Sanders Calls on Clinton to Support American Workers Online by Gerhard Peters and John T. Woolley, The American Presidency Project https://www.presidency.ucsb.edu/node/314569