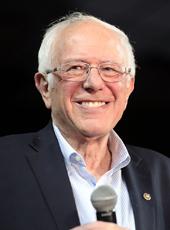 Sanders Campaign Press Release - Sanders: Break Up Too-Big-to-Fail Banks
LARAMIE, Wyo. — U.S. Sen. Bernie Sanders' spokesman issued the following statement on Tuesday on how the nation's biggest banks would be broken up under a Sanders administration:
"Sen. Bernie Sanders and Secretary Clinton have very different points of view on how to reform Wall Street and the largest financial institutions in this country.
"Sen. Sanders believes that it is necessary to break up large financial institutions not only because we need to prevent another Wall Street bailout, but because of the incredible concentration of ownership and power that now rest with a handful of these huge institutions. In fact, the six largest financial institutions in this country now have assets equivalent to more than 56 percent of our nation's GDP, issue two thirds of the credit cards, and one third of the mortgages.
"Electing Sen. Sanders as president would send a clear message to financial regulators that they need to do everything within their power to break up financial institutions so that they can no longer threaten the financial well-being of the American people.
"Here's how he will accomplish that.
"Within the first 100 days of his administration, Sen. Sanders will require the secretary of the Treasury Department to establish a "Too-Big-to Fail" list of commercial banks, shadow banks and insurance companies whose failure would pose a catastrophic risk to the United States economy without a taxpayer bailout.
"Within a year, the Sanders administration will work with the Federal Reserve and financial regulators to break these institutions up using the authority of Section 121 of the Dodd-Frank Act.
"Sen. Sanders will also fight to enact a 21st Century Glass-Steagall Act to clearly separate commercial banking, investment banking and insurance services. Secretary Clinton opposes this extremely important measure.
"President Franklin Roosevelt signed the Glass-Steagall Act into law precisely to prevent Wall Street speculators from causing another Great Depression. And, it worked for more than five decades until Wall Street watered it down under President Reagan and killed it under President Clinton. That is unacceptable and that is why Sen. Sanders will fight to sign the Warren-McCain bill into law."
Bernie Sanders, Sanders Campaign Press Release - Sanders: Break Up Too-Big-to-Fail Banks Online by Gerhard Peters and John T. Woolley, The American Presidency Project https://www.presidency.ucsb.edu/node/317237