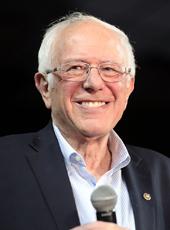 Sanders Campaign Press Release - Sanders Blasts Clinton's Support for Job-Killing Trade Deals
LANSING, Mich. – Bernie Sanders on Thursday said U.S. trade policies, supported by Hillary Clinton, have devastated Michigan's economy and led to the disappearance of automobile and other manufacturing jobs.
"A campaign is not about what you said yesterday. It is about what you have stood for your entire career. On one of the most important issues facing working people, Secretary Hillary Clinton and I have very different points of view," Sanders said. "She was very, very wrong and millions of families across the country have been suffering."
Sanders opposed and Clinton backed trade deals which contributed to the loss of nearly 60,000 factories in the United States and almost 5 million manufacturing jobs over the last 15 years. She supported and Sanders opposed the North American Free Trade Agreement. She supported and Sanders opposed permanent normal trade relations with China. She also recently boasted about her role as secretary of state in brokering a trade agreement with South Korea, which increased the U.S. trade deficit and hurt Michigan auto exports.
Today, Sanders is leading the opposition in Congress to a proposed Trans-Pacific Partnership which Clinton once called "the gold standard in trade agreements." While she has shifted stands recently, Sanders noted that Thomas Donahue, the head of the U.S. Chamber of Commerce, predicted she would do another about-face and support the business-backed deal if she wins the White House.
Michigan has been hit especially hard by a failed trade policy, which led to the state losing 33 percent of its manufacturing jobs in the past 15 years. Detroit, once the richest city in the United States in the 1960s per capita, today is the poorest. The North American Free Trade Agreement alone led to the loss of 43,000 jobs in Michigan. Permanent normal trade relations with China put another 80,000 Michigan workers out of jobs.
No city in the United States has been more devastated by unfettered free trade than Flint, Michigan. Since 1978, General Motors has eliminated more than 72,000 jobs in Flint and moved several factories to Mexico. "Unfettered free trade turned a prosperous middle-class city, where residents could own a home, raise a family and retire with security, into a place where good jobs are scarce and extreme poverty is high," Sanders said. Today, one quarter of Flint residents have an annual income of less than $15,000 and 65 percent of the children live in poverty.
"Everyone understands what these disastrous trade agreements are all about. The results are clear. You look at Detroit. Look at Flint. Our trade policies have failed," Sanders said. "The truth is that these trade agreements have been a disaster for working families in this country and they have benefited the CEOs of major corporations."
Joining Sanders at the news conference were Larry Cohen, a former Communications Workers of America president and senior adviser on labor issues; Kevin Mack, an executive board member in Detroit's an IBEW Local 58; and Kim Ward, former American Axel worker and UAW member. "I loved my job. I was able to provide for my family and put a roof over their heads," Ward said. "We had a good thing going. We raised our family together." Then the company wanted to slash pay in half and cut benefits. The workers went on strike but eventually made concessions. Still, the company moved the plant to Mexico. "A lot of lives were destroyed by what happened and it's not fair," she said.
Watch the press conference:

Bernie Sanders, Sanders Campaign Press Release - Sanders Blasts Clinton's Support for Job-Killing Trade Deals Online by Gerhard Peters and John T. Woolley, The American Presidency Project https://www.presidency.ucsb.edu/node/314263