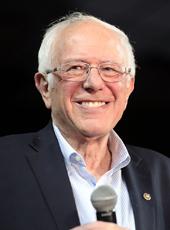 Sanders Campaign Press Release - Sanders at Baltimore Rally Draws Contrasts with Clinton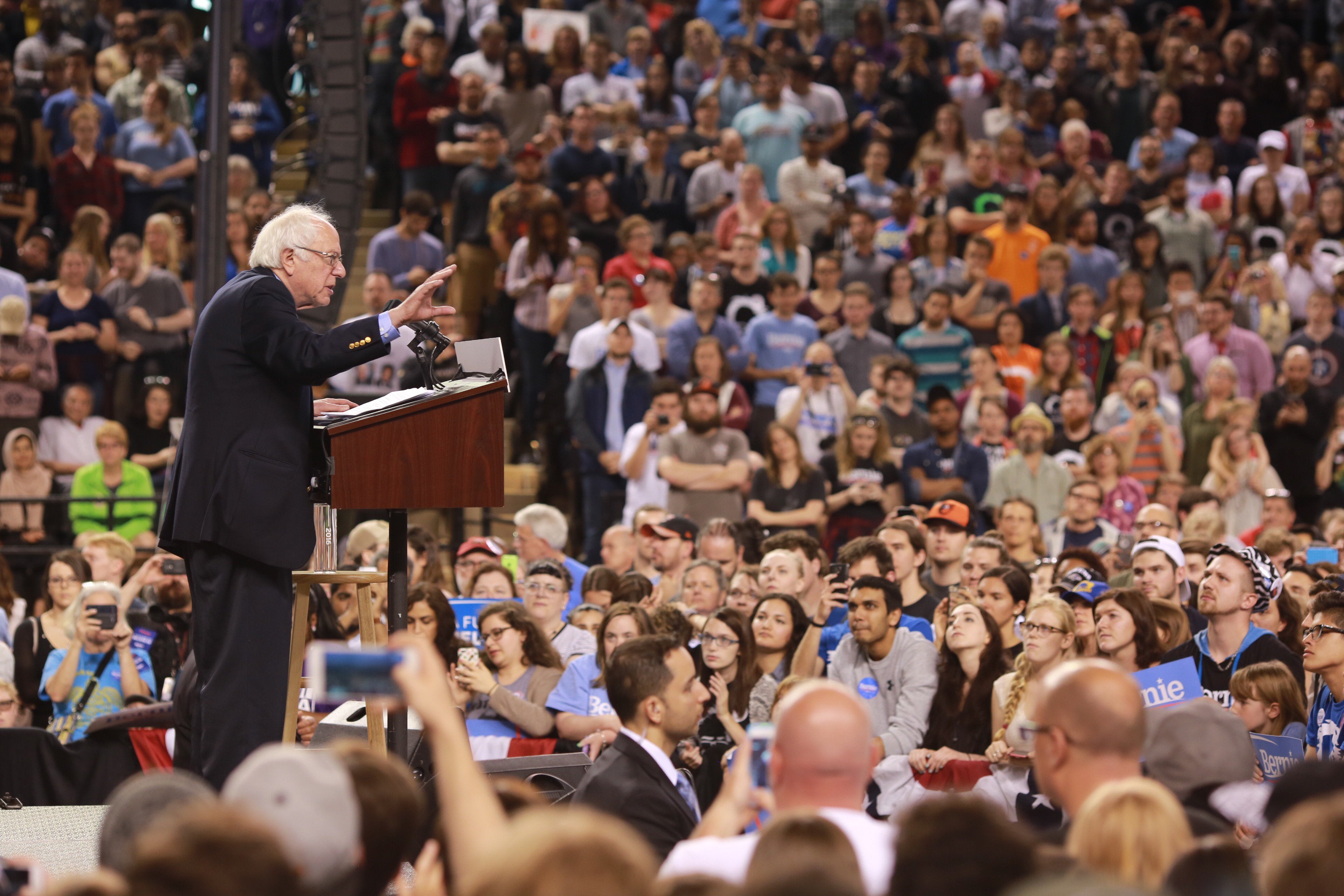 BALTIMORE – More than 6,600 supporters cheered U.S. Sen. Bernie Sanders on Saturday as he continued to draw distinctions with rival Hillary Clinton ahead of next Tuesday's round of presidential primary contests in five Northeast and mid-Atlantic states.
Maryland Democrats go to the polls on Tuesday along with voters in Pennsylvania, Delaware, Rhode Island and Connecticut. Sanders was headed to rallies in Delaware later Saturday and in Rhode Island on Sunday.
"All of you are enormously powerful people if you choose to exercise that right," Sanders told the rally at Royal Farms Arena. "Our job is to tell the establishment that the status quo is not acceptable."
He spelled out clear differences between his record and Clinton's on campaign funding, foreign policy and war, the minimum wage, Wall Street reform, climate change, college affordability, retirement security and other critical issues.
Sanders contrasted his grassroots campaign, which is supported by more than 7 million donations averaging about $27 apiece, to Hillary Clinton's campaign bankrolled by high-dollar donors to her White House campaign and to her super PACs, which have taken more than $25 million from Wall Street and other special interests.
Sanders was introduced by the civil rights activist and actor Danny Glover and by Benjamin Jealous, the former head of the NAACP.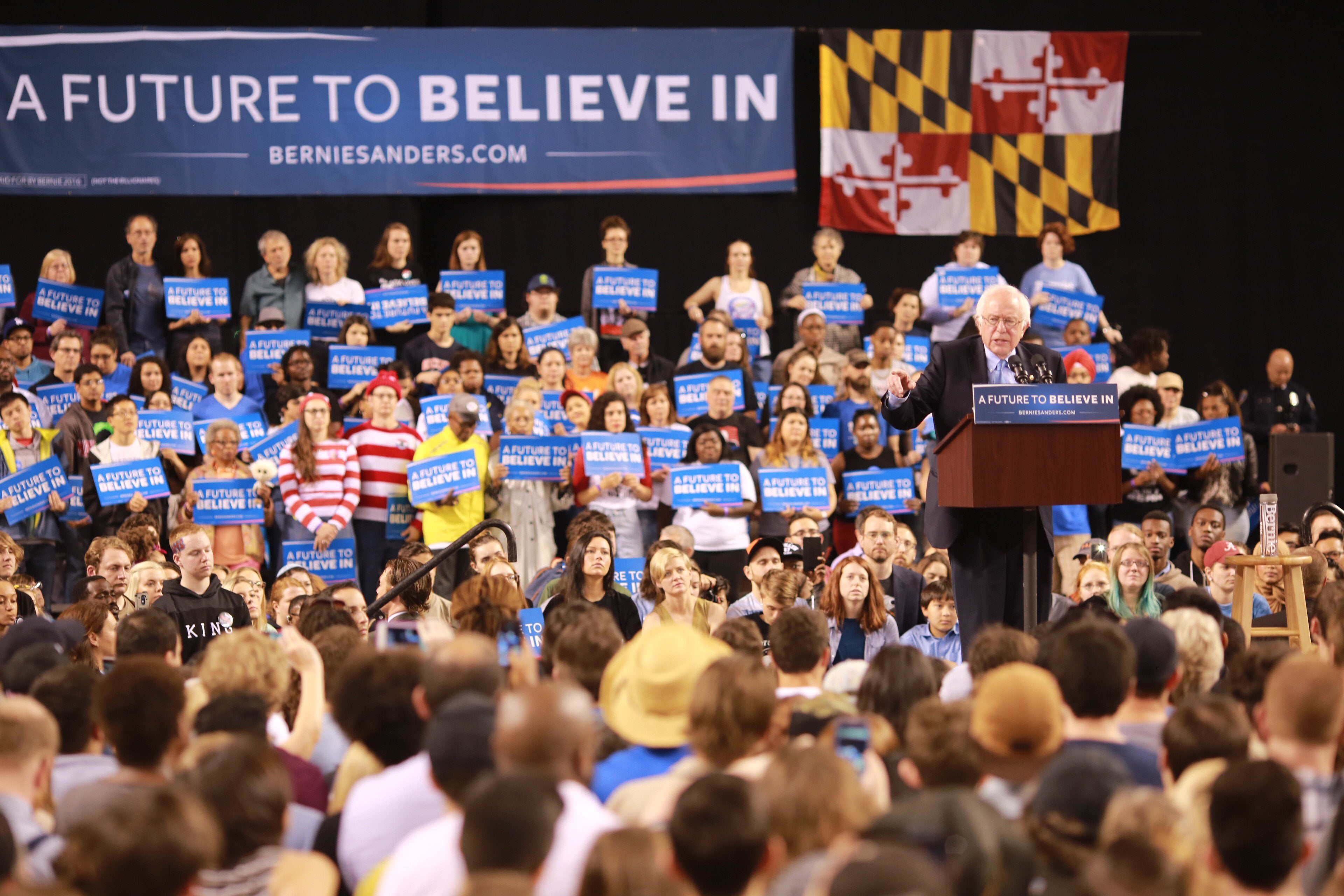 In an interview taped earlier Saturday for the NBC News program "Meet the Press," Sanders was asked about his differences and similarities with Clinton.
"I think there is a lot that unites us. I think there is a lot that divides us. I think the fact that all of us are in agreement that Donald Trump would be a disaster for this country if he became president unites us. The fact that we understand, for example, that climate change is real while our Republican opponents ignore that reality unites us," Sanders told Chuck Todd.
"On the other hand, I think what divides us is the understanding on the part of millions of people who are supporting my candidacy that it really is too late for establishment politics and establishment economics. We have to deal in very substantive way with income and wealth inequality. We need to understand that we are the only major country on earth not to guarantee health care to all people, not to provide paid family and medical leave. We have to deal aggressively with a corrupt campaign finance system which allows big- money interests to buy elections. Those are areas I think of difference," Sanders said.
The full interview airs Sunday on NBC's "Meet the Press."
Bernie Sanders, Sanders Campaign Press Release - Sanders at Baltimore Rally Draws Contrasts with Clinton Online by Gerhard Peters and John T. Woolley, The American Presidency Project https://www.presidency.ucsb.edu/node/318305