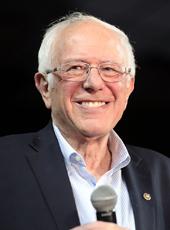 Sanders Campaign Press Release - Sanders and Clinton Fight to Draw in Iowa
DES MOINES, Iowa – In a come-from-behind campaign for the history books, Bernie Sanders on Monday fought to a virtual draw with Hillary Clinton in Iowa's precinct caucuses.
"Nine months ago we had no political organization, we had no money, we had no name recognition and we were taking on the most powerful political organization in the country," Sanders said. "Tonight, while the results are still not known, it looks like we are in a virtual tie," he added. "It looks like we'll have about half of the Iowa delegates."
Sanders was headed overnight to New Hampshire, where polls published on Sunday put the U.S. senator from Vermont up by 20 points or more over the former secretary of state.
The Iowa caucuses came nine months after he launched his White House campaign as a 41-point underdog in Iowa to Clinton, who had been all but coronated by pundits and the party establishment.
Earlier Monday, Sanders thanked volunteers at his Iowa campaign headquarters. "This is a national campaign. We are in this to win at the convention. We're taking this all of the way," he told reporters gathered outside a red-white-and-blue campaign bus that he used to travel across the Hawkeye State.
Sanders message combined exhortations about the country's corrupt campaign finance system and rigged economy. "I'm very proud to tell you that we are the only candidate on the Democratic side without a super PAC," he said.
Sanders credited his success in Iowa to some 15,000 volunteers who helped bring out young people, working-class supporters and disaffected voters who were drawn to his campaign in large numbers and defied pundits' predictions that they would not turn out at the caucuses.
Sanders' message combined exhortations about the country's rigged economy propped up by a corrupt campaign finance system and a long list of detailed policy proposals.
He called for universal health care and tuition-free public colleges and universities. He wants to break up big Wall Street banks, put millions of Americans to work rebuilding crumbling roads and bridges and strengthen Social Security. He wants to implement a fair and humane immigration policy that will bring millions of aspiring Americans out of the shadows and keep families together. He opposes trade deals that have shuttered factories and thrown millions of Americans out of work. He has the boldest plan to combat the planetary crisis of climate change. He vowed to protect a woman's right to choose and ensure equal pay for equal work. And he detailed a comprehensive criminal justice reform package as part of a plan to combat institutional racism.
Watch the speech:

Bernie Sanders, Sanders Campaign Press Release - Sanders and Clinton Fight to Draw in Iowa Online by Gerhard Peters and John T. Woolley, The American Presidency Project https://www.presidency.ucsb.edu/node/315493