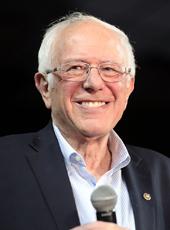 Sanders Campaign Press Release - Sanders' Agenda for America Helps Minorities
BOW, N.H. – Saying that he has "a long history of fighting for civil rights," Democratic presidential candidate Bernie Sanders on Sunday told ABC News that his proposals to create jobs and help middle-class families will help minorities in America.
During an interview on ABC's "This Week with George Stephanopoulos," Sanders recounted his personal background in the civil rights movement and discussed how his economic proposals in Congress would help African-Americans and Hispanics.
Sanders recalled protests he joined as student at the University of Chicago. "I was arrested when I was a student protesting the segregation of schools in Chicago, fought against segregated housing in Chicago, marched with Martin Luther King. Jr., in the great March on Washington. I have a long history fighting for civil rights," Sanders said.
Describing himself "as someone who has been involved in the civil rights movement for my entire adult life," Sanders added, "I understand that many people in the African-American community may not understand that." He said he would make a more concerted effort to reach out to minority communities.
"I think the issues that we are dealing with – combating 51 percent African-American youth unemployment, talking about making public colleges and universities tuition-free, raising the minimum wage to $15 an hour, creating millions of jobs by rebuilding our infrastructure – are issues that should apply to every American," Sanders said. "But to be honest with you, given the disparity that we're seeing in income and wealth in this country, it applies even more to the African-American community and to the Hispanic community."
Sanders recently re-introduced legislation with Rep. John Conyers (D-Mich.) which would provide $5.5 billion for states and local governments to employ 1 million youth from ages 16 to 24 years old. He authored another measure to make 4-year public colleges and universities tuition-free. He proposed a small tax on Wall Street speculators to finance the college plan. He also has joined strikes by low-wage workers who have led a grassroots push for a $15-an-hour minimum wage. He soon plans to introduce legislation to raise the minimum from the $7.25-an-hour "starvation wage."
During the Sunday television interview, Sanders pledged "a major outreach effort" to "let people know my background and let people know my record." He also spelled out the major theme of a presidential campaign that has drawn huge turnouts and rising poll numbers both here in New Hampshire, which will hold the nation's first primary, and in Iowa, home of the country first presidential caucuses.
"The American people are sick and tired of seeing the disappearance of the great middle class of this country. They're sick and tired of working longer hours for lower wages while at the same time 99 percent of all new income generated is going to the top 1 percent and the top one-tenth of 1 percent now owns almost as much as wealth as the bottom 90 percent," the senator told Stephanopoulos.
"We have seen in the last 30 years a massive shift in wealth and income from ordinary Americans to the richest people in this country and the American people are saying, 'Enough is enough.' We need to create an economy that works for all of us and not just a handful of billionaires."
Bernie Sanders, Sanders Campaign Press Release - Sanders' Agenda for America Helps Minorities Online by Gerhard Peters and John T. Woolley, The American Presidency Project https://www.presidency.ucsb.edu/node/314272