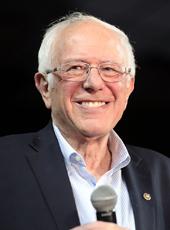 Sanders Campaign Press Release - Sanders Addresses Poverty in South Carolina
COLUMBIA, S.C. – Bernie Sanders on Wednesday detailed proposals to reduce poverty in the United States and he attributed the increase in part to a 1996 welfare reform bill which he opposed at the time as "an assault on the poor, women and children, minorities and immigrants."
"The United States today has the highest poverty rate of nearly any major country on earth because almost all of the new wealth and income is going to the people on top," Sanders said at the news conference. "The poor remain invisible, powerless, not heard from. Most don't even vote," he added.
Sanders said 21 percent of children in the United States and 37 percent of African-American children live in poverty. In South Carolina, the childhood poverty rate overall is greater than the national figure. The 27 percent overall rate in South Carolina includes 138,000 black children and 34,000 Hispanic children.
Sanders said one reason for the increasing numbers of poor Americans is the 1996 bill he opposed and Hillary Clinton supported. "What welfare reform did in my view was to go after some of the weakest and most vulnerable people in this country," Sanders said. "During that period, I spoke out against so-called 'welfare reform' because I thought it was scapegoating people who were helpless, people who were very, very vulnerable. Secretary Clinton at that time had a very different position on 'welfare reform.' She strongly supported it and worked hard to round up votes for its passage."
To address poverty in the United States today, Sanders called for the federal minimum wage to be lifted from $7.25 an hour to $15 an hour. He proposed a youth jobs program to create 1 million jobs for young Americans, and urged support for a $1 trillion, five-year push to put 13 million Americans to work in good-paying jobs rebuilding roads, bridges and railways. He said a Medicare-for-all, single-payer health care system also would help reduce poverty in the United States.
Sanders was flanked at the news conference by South Carolina State Reps. Justin Bamberg and Joe Neal.
According to the latest statistics, 57 percent of children in South Carolina who are of preschool age are not attending preschool. More than 280,000 children are poor. In the state, 168,000 African American children, 159,000 white children and 39,000 Hispanic children are in families where no parent has a full time job.
Bernie Sanders, Sanders Campaign Press Release - Sanders Addresses Poverty in South Carolina Online by Gerhard Peters and John T. Woolley, The American Presidency Project https://www.presidency.ucsb.edu/node/315056