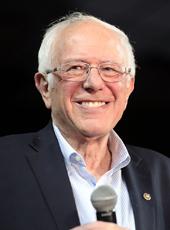 Sanders Campaign Press Release - Sanders Accepts Clinton's Challenge on Wall Street Speeches
ELKO, Nev. – U.S. Sen. Bernie Sanders' campaign on Friday urged Hillary Clinton to keep her word and release the transcripts of speeches she gave to Wall Street firms "when everybody else does."
"Sen. Sanders accepts Clinton's challenge. He will release all of the transcripts of all of his Wall Street speeches. That's easy. The fact is, there weren't any. Bernie gave no speeches to Wall Street firms. He wasn't paid anything while Secretary Clinton made millions, including $675,000 for three paid speeches to Goldman Sachs," said Sanders' spokesman Michael Briggs.
"So now we hope Secretary Clinton keeps her word and releases the transcripts of her speeches. We hope she agrees that the American people deserve to know what she told Wall Street behind closed doors," Briggs added.
Clinton was paid $21.7 million in fees for speeches to groups including Wall Street firms, big corporations and trade associations for 92 talks she delivered from 2013 through last April in the run-up to formally launching her second presidential bid.
A question about what she said in those speeches was raised on Thursday during an MSNBC-Telemundo town hall in Las Vegas. A questioner in the audience asked her about why she won't release the transcripts. Clinton said she would hand over her speech transcripts if other public officials did the same. "I'm happy to release anything I have when everybody else does the same," Clinton said. Sanders is "everybody else" in the Democratic presidential field of candidates.
During a Feb. 4 Democratic presidential debate, Clinton was asked if she would release the transcripts of all her paid speeches. "I will look into it. I don't know the status, but I will certainly look into it," she said at the time.
Bernie Sanders, Sanders Campaign Press Release - Sanders Accepts Clinton's Challenge on Wall Street Speeches Online by Gerhard Peters and John T. Woolley, The American Presidency Project https://www.presidency.ucsb.edu/node/326244