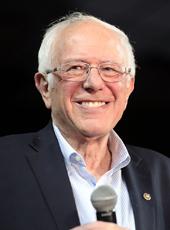 Sanders Campaign Press Release - Nevada DNC Member Erin Bilbray Endorses Sanders for President
LAS VEGAS – U.S. Sen. Bernie Sanders on Monday welcomed a major endorsement from Erin Bilbray, Democratic National Committee superdelegate and a leading advocate for women in public service.
"I have spent my entire career working to engage women in the political process," Bilbray said. "But at this point the biggest threat to American democracy is the dark money from super PACs that are controlling our elections. Government cannot focus on all of the important issues that affect America's working families when a handful of super wealthy donors, in both parties, have the ability to predetermine who will win the election. Senator Bernie Sanders has denounced all super PACs and will continue to fight for the future of the middle class. As a mother of two young daughters, their future is my priority, which is why I am endorsing Bernie Sanders as the Democratic nominee for president of the United States."
"Erin Bilbray is a leader in Nevada. She has been an advocate of middle-class working families her whole life, and believes Senator Sanders is the only candidate that can bring the real change necessary to take back our country from the billionaire class and fight for true campaign finance reform," said Sanders' Nevada state director, Joan Kato. "We are excited to have her support."
Bilbray is a Nevada native and her father, James Bilbray, is a former congressman from southern Nevada. She founded Emerge Nevada, a nonprofit organization that trains and recruits women to become politically active.
On Monday, Bilbray will welcome Sen. Sanders and women leaders to her home for the Women's Leaders Lunch. The lunch will include conversations on issues important to women such as equal pay, income inequality, universal health care and college affordability.
Bernie Sanders, Sanders Campaign Press Release - Nevada DNC Member Erin Bilbray Endorses Sanders for President Online by Gerhard Peters and John T. Woolley, The American Presidency Project https://www.presidency.ucsb.edu/node/314612