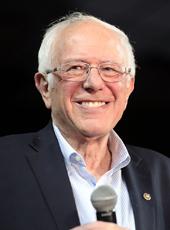 Sanders Campaign Press Release - More Dishonest Attacks from the Clinton Campaign
BOSTON – Hillary Clinton's campaign is once again attacking Bernie Sanders' record, purposefully leaving out the facts and misleading the American people. The latest misinformation campaign implies that Sen. Sanders only opposed the 2007 immigration reform bill because of his concerns about U.S. workers, even though he was fighting that same year to stop corporations from ruthlessly exploiting guest workers.
"It is shameful to see the fabrication of facts and reinventing of history," Rep. Raúl Grijalva said. "Sen. Sanders is the only candidate in the Democratic presidential race with a detailed immigration plan and a strong, consistent record on immigration policy. This election will be defined by who has the best policy alternatives for the country, not cheap political attacks."
Here is what Sanders said on the floor of the Senate on July 26, 2007:
"In addition, according to a recent report by the Southern Poverty Law Center entitled 'Close to Slavery,' H-2B workers are routinely cheated out of wages; forced to mortgage their futures to obtain low wage, temporary jobs; held virtually captive by employers or labor brokers who seize their documents; forced to live in squalid conditions; and denied medical benefits for on-the-job injuries. Let us not make it worse. Simply put, we must make sure that labor protections for American workers and for foreign workers who are temporarily working in our country – we must make sure these regulations are strengthened, not weakened. Over the long term, I will be introducing legislation to accomplish that goal. But in the interim, we must not take a major step backwards in terms of protecting both U.S. workers and guest workers from unscrupulous employers."
The League of United Latin American Citizens, the largest and oldest Hispanic organization in the United States, criticized the Clinton campaign for its unfair attacks on Sanders' vote on the 2007 immigration reform bill.
"I really think it's unfair for Hillary to make an issue of that vote," LULAC executive director Brent Wilkes told BuzzFeed News.
According to the Southern Poverty Law Center, "The H-2 guest worker program is inherently abusive and should not be expanded in the name of immigration reform."
For a list of some of the groups opposed to the 2007 immigration reform bill see below.
Bernie Sanders, Sanders Campaign Press Release - More Dishonest Attacks from the Clinton Campaign Online by Gerhard Peters and John T. Woolley, The American Presidency Project https://www.presidency.ucsb.edu/node/314770