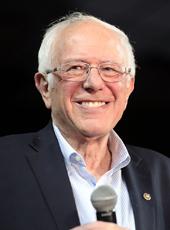 Sanders Campaign Press Release - Mainers Back Bernie at Big Rally
PORTLAND, Maine – More than 7,500 people packed an arena here Monday night in another big show of grassroots support for Bernie Sanders.
"In case you didn't notice, this is a big turnout," Sanders told the placard-waving crowd as they cheered his call to take on the billionaire class and rebuild the American middle class.
"From Maine to California, the American people understand that establishment politics and establishment economics are not working for America," Sanders said. "They understand that the greed of Wall Street and corporate America is destroying the great middle class of this country and people from coast to coast are saying, 'You can't keep getting away with it.'"
In his fiery speech, Sanders pledged to address gaps in wealth and income inequality that are greater than at any time since the Great Depression. The big turnouts, he said, are sending a powerful message that Americans are tired of a system rigged to help the rich and powerful instead of working families.
"It is not acceptable that a handful of billionaires is now controlling our political process and the time is long overdue for the corporate media to start talking about the real issues," Sanders said. "People are becoming involved in this campaign because they want change – real change – and that is what this campaign is about."
Sanders was introduced by Troy Jackson, a logger from Allagash, Maine, who praised the senator's willingness to take on "the big corporate structure." Sanders' proposals for improving health care, raising the minimum wage and making higher education tuition-free also were cited by the Democratic National Committee member and former Maine Senate majority leader. "What a lot of people are feeling is that there is somebody speaking to their issues," Jackson told the Portland Press-Herald. "That's why you're seeing so many people come out."
He also called for closing tax loopholes that let profitable corporations stash income in the Cayman Islands and other tax havens. He said he would break up the largest financial institutions in the country that are bigger today than before they were bailed out by taxpayers after the 2008 Wall Street crash.
The Portland turnout was another in a string of big crowds coming out for Sanders. A 10,000-seat arena in Madison, Wisconsin, was filled to capacity last Wednesday when more people turned out than for any presidential candidate anywhere so far this campaign. On the Friday night before the Fourth of July, more than 2,500 showed up at a convention center in Council Bluffs, Iowa, the biggest Iowa audience for any candidate to date.
Bernie Sanders, Sanders Campaign Press Release - Mainers Back Bernie at Big Rally Online by Gerhard Peters and John T. Woolley, The American Presidency Project https://www.presidency.ucsb.edu/node/314149