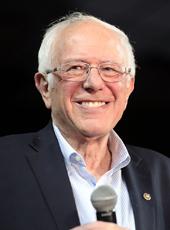 Sanders Campaign Press Release - Locked in Close Contest in Iowa, Sanders Details Differences with Clinton
DECORAH, Iowa – With little more than a week to go before Iowa's precinct caucuses, Bernie Sanders on Sunday detailed sharp policy differences with Hillary Clinton on a host of issues from Wall Street reform to family leave to climate change.
"Today we are locked in a very close race here in Iowa," Sanders said in a speech at Luther College to an audience of 2,272 people crowded into a gymnasium. A CBS News Battleground Tracker poll released earlier Sunday showed Sanders holding a one-point edge over Clinton. The same survey had Sanders 19 points ahead in New Hampshire and gaining ground in South Carolina.
"On Feb. 1 you have the opportunity to say that it is just too late for establishment politics and establishment economics and together we are going to take this country in a very different direction and that in fact we are going to make a political revolution," Sanders said.
On foreign policy, Sanders contrasted his vote against the war in Iraq with Clinton's support for the 2002 invasion. "That is a difference in judgement in what turns out to be the most important foreign policy moment in the modern history of the United States," Sanders said.
On Wall Street reform, Sanders has introduced legislation to break up the biggest banks to protect consumers and spare taxpayers from future bailouts like the 2008 taxpayer rescue of Wall Street. "In my view, the business model of Wall Street is fraud," he said. "Today three out of the four largest banks in this country are larger than when we bailed them out because they were too big to fail. The time is now to break them up. That is not the position of Secretary Clinton," Sanders added.
On paid family leave, Sanders laid out his support for bills in Congress to provide three months of paid leave. The legislation, introduced by leading Democratic women in the Senate and House, would pay for the program with a $1.61 payroll tax. "I think it's a good investment," Sanders said. "Secretary Clinton does not support that legislation."
On Social Security, Sanders detailed his plan to expand and extend the retirement and disability program by making the wealthiest Americans pay the same share of their income into the system as everyone else. He agrees with President Barack Obama's proposal to lift the cap on wages subject to the payroll tax. His legislation would make those earning more than $250,000 pay the same tax rate as those who earn $118,500 or less. "On that issue, I support lifting the cap. Secretary Clinton does not," Sanders said.
On the planetary crisis of climate change, Sanders was a leader opposing a pipeline to ship some of the dirtiest oil on the planet from the tar sands region of Alberta, Canada, to refineries in Texas. "If we are going to transform our energy system and move away from fossil fuel we cannot support the Keystone pipeline," he said. "I was out front on that issue, Hillary Clinton did come out late in opposition to the Keystone pipeline. I would have appreciated it if she had come out earlier." Sanders also has opposed the proposed Bakken Pipeline that cuts through Iowa and three other states. Clinton has not taken a position. Clinton also refused to release a comprehensive plan to stop the worst effects of climate change, despite saying she would in July 2015.
Overarching all other issues, Sanders said, is the corrupt campaign finance system which allows millionaires and corporations to try to buy elections so they can control Congress and protect their special interests.
"We are living with a rigged economy and a corrupt campaign finance system," Sanders said. "The people of Iowa will have to determine … which candidate is willing to stand up to Wall Street and the billionaire class and represent working families."
The CBS poll released today showed that 91 percent of Iowa Democratic voters believe Sanders would pick regular people over big donors.
Bernie Sanders, Sanders Campaign Press Release - Locked in Close Contest in Iowa, Sanders Details Differences with Clinton Online by Gerhard Peters and John T. Woolley, The American Presidency Project https://www.presidency.ucsb.edu/node/314299