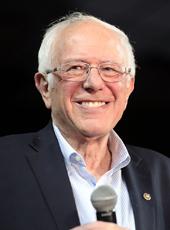 Sanders Campaign Press Release - Jane Sanders Visits Tent City to See Horrific Conditions Firsthand Arpaio Crashes Visit, Refuses to Answer on Abuses
PHOENIX — Jane Sanders on Sunday came to Arizona to meet with families who have been victims of Maricopa County Sheriff Joe Arpaio's discriminatory and unconstitutional law enforcement practices.
Sanders went with immigrant rights leaders to witness directly the conditions in which people are inhumanely treated in the infamous "tent city" jail. Planning to view the conditions through the fence, Sanders was surprised when Arpaio came over and told them that they could go inside.
Sanders used the opportunity to question Arpaio about racial profiling and his use of civilians to detain people who are undocumented. She questioned the inhumane treatment of prisoners who have to live outside under temperatures that can reach over 130 degrees., a charge he did not deny, saying they were prisoners. He bragged about removing meat from all their meals and having chain gangs.
A federal court has found that Arpaio relied on racial profiling and illegal detention to target Latinos and immigrants.
"What I saw and heard firsthand today by visiting with the families and seeing tent city was very disturbing," Sanders said. "Sheriff Arpaio did not even attempt to explain or excuse his inhumane treatment of people of color — not that he could. That kind of attitude toward our fellow human beings is completely unacceptable, especially in elected officials and those who would seek public office. We all need to stand up and put an end to these egregious human rights abuses. Today only solidified the need for comprehensive immigration and criminal justice reform I know that as president Bernie would do just that and keep families safe."
After witnessing the jail conditions, Sanders met with the children of immigrant families, including Katherine Figueroa, 15, whose parents were arrested and imprisoned in Arpaio's jail just for working to provide for their family. Katherine saw her parents on television in handcuffs as they were arrested by Arpaio's officers.
"No family should have to endure what these families have," Sanders concluded. "Their plight can no longer be ignored."
Bernie Sanders, Sanders Campaign Press Release - Jane Sanders Visits Tent City to See Horrific Conditions Firsthand Arpaio Crashes Visit, Refuses to Answer on Abuses Online by Gerhard Peters and John T. Woolley, The American Presidency Project https://www.presidency.ucsb.edu/node/314527