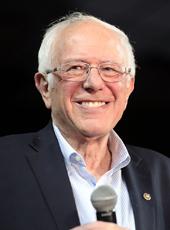 Sanders Campaign Press Release - Huge Turnout at Sanders Rally in Denver
DENVER – More than 18,000 stoked Bernie Sanders supporters crowded into the Colorado Convention Center on Saturday to rally for the Democratic Party presidential candidate fresh off a big win in New Hampshire and a photo-finish in Iowa.
"This looks to me like a group of people who are prepared to make a political revolution," Sanders told the cheering throng surrounding him in the cavernous convention hall and in overflow areas outside.
Sanders took his campaign here after a remarkable come-from-behind finish on Feb. 1 in Iowa, where he and Hillary Clinton fought to a draw in precinct caucuses, and days after Sanders racked up a 22-point landslide victory last Tuesday in New Hampshire.
"A lot has happened in nine months. We started off in Iowa 40 or 50 points behind. The results ended up a little different than that. We started out in New Hampshire 30 points down. The results came out a little different than that. We started out way behind in Nevada and South Carolina. We have a real shot at winning both of those states," Sanders said. "And here in Colorado, with your enthusiasm, on March 1 we are going to win."
Colorado Democrats will hold precinct caucuses on Super Tuesday in the first step of a process for nominating candidates and selecting delegates to this summer's Democratic National Convention in Philadelphia.
In a stirring speech fueled by the excited crowd, Sanders spoke about ending a corrupt campaign finance system that props up a rigged economy. He also said no president could take on those forces without a grassroots uprising that would upend Washington.
"The powers that run this country – corporate America, Wall Street, large campaign donors – are so powerful that no candidate alone can bring about the transformation that working families and the middle class need," Sanders said. "What we are saying is that millions of people have to stand up, have to fight back and make it clear that the government of the United States belongs to all of us …" he said as cheers of "Bernie, Bernie, Bernie" drowned him out.
The rally preceded a dinner hosted by Colorado Democrats featuring Sanders and Hillary Clinton.

Watch the video:

Bernie Sanders, Sanders Campaign Press Release - Huge Turnout at Sanders Rally in Denver Online by Gerhard Peters and John T. Woolley, The American Presidency Project https://www.presidency.ucsb.edu/node/314906