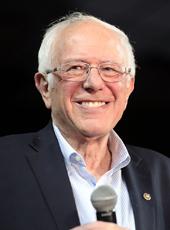 Sanders Campaign Press Release - Former Senator and DNC Chairman Paul Kirk Endorses Sanders for President
HANOVER, N.H. – Former U.S. Sen. Paul G. Kirk Jr., a past chairman of the Democratic National Committee, on Thursday endorsed Bernie Sanders for president. "I had the privilege of serving briefly with Bernie Sanders in the United States Senate and I quickly learned that he is who he is: a plain spoken and authentic patriot who wears his passion for a better America on his sleeve," Kirk said at a news conference here at Dartmouth College.
"Among all the Presidential candidates, only Bernie Sanders is telling that truth: The unlimited amounts of money flooding our political system from a narrow and immensely wealthy slice of American society is the most pernicious internal peril threatening the fundamental tenets of economic, political, moral and social justice and, not least, the fairness and vibrancy of our representative democracy," Kirk said. "For his outspoken and courageous leadership, his candid and consistent pledge of allegiance to that All-American ideal, I am proud to be here to join this 'untiring effort'; and, as a former Chairman of the National Democratic Party, to endorse Bernie Sanders for our Party's nomination for President of the United States of America." (To read the complete statement, click here.)
"Sen. Kirk is right when he states that our democracy is being undermined by a corrupt campaign finance system," Sanders said. "I very much appreciate the support from Sen. Kirk," added Sanders. He noted Kirk's "exemplary career as a public servant fighting on behalf of working families in our country" and praised Kirk's leadership of the Democratic Party.
Kirk is a Massachusetts native who served as chief of staff to Sen. Edward M. Kennedy before becoming the Democratic National Committee chairman from 1985 to 1989. After Kennedy's death, Kirk was appointed to fill his Senate seat and served in the U.S. Senate in 2009 and 2010. He is a Democratic Party superdelegate, the 16th to publicly support Sanders.
Watch the video:


Bernie Sanders, Sanders Campaign Press Release - Former Senator and DNC Chairman Paul Kirk Endorses Sanders for President Online by Gerhard Peters and John T. Woolley, The American Presidency Project https://www.presidency.ucsb.edu/node/326251