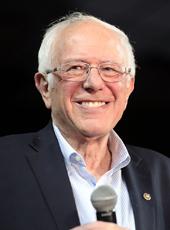 Sanders Campaign Press Release - Experts Back Sanders' Wall Street Reform Plan, New TV Ad Contrasts 'Democratic Visions'
BURLINGTON, Vt. – Bernie Sanders' presidential campaign on Thursday released a new television ad contrasting his Wall Street reform plan to those who say "it's okay to take millions from big banks."
Also on Thursday, the campaign released a letter signed by 170 economists and financial experts in support of his proposal to remake the financial system to serve America's working families.
"There are two Democratic visions for regulating Wall Street," Sanders says in the 30-second ad that will be broadcast in Iowa and New Hampshire. "One says it's okay to take millions from big banks and then tell them what to do. My plan: break up the big banks, close the tax loopholes, and make them pay their fair share. Then we can expand health care to all and provide universal college education."
Sanders presented a sweeping plan to rein in the greed of the nation's biggest financial institutions a week ago during a major speech in New York. He pledged to break up the biggest banks and fight to establish a 21st Century Glass-Steagall Act which would restore a Depression-era law signed by President Franklin D. Roosevelt designed to prevent Wall Street speculators from crashing the economy. He also said his administration will cap credit card interest rates and ATM fees, allow post offices to offer basic banking services and reform the Federal Reserve to focus on its mandate to promote full employment.
Hillary Clinton, another candidate for the Democratic presidential nomination, recently claimed that her proposals were backed by "everybody." In a Jan. 5 speech in Sioux City, Iowa, she asserted that "everybody who's looked at my proposals says my proposals are tougher, more effective, more comprehensive." It wasn't true then, as The Washington Post reported, and it's not true now.
In reality, 170 economists and other experts have laid out the reasons why Sanders' plan is superior. They explained why in the letter signed by former Labor Secretary Robert Reich, University of Texas Professor James K. Galbraith, Dean Baker, co-director of the Center for Economic and Policy Research in Washington, DC., Brad Miller, former U.S. Congressman from North Carolina, and William K. Black, University of Missouri-Kansas City.
"Sanders' plan for comprehensive financial reform is critical for avoiding another 'too-big-to-fail' financial crisis," the letter said. "The only way to contain Wall Street's excesses is with reforms sufficiently bold and public they can't be watered down. That's why we support Senator Sanders's plans for busting up the biggest banks and resurrecting a modernized version of Glass-Steagall."
The letter comes after Hillary Clinton claimed her approach was more comprehensive and more effective.
"Secretary Hillary Clinton's more modest proposals do not go far enough," the economists and financial experts write. "They call for a bit more oversight and a few new charges on shadow banking activity, but they leave intact the titanic financial conglomerates that practice most shadow banking. As a result, her plan does not adequately reduce the serious risks our financial system poses to the American economy and to individual Americans. Given the size and political power of Wall Street, her proposals would only invite more dilution and finagle."
Click here to read the full letter and see the list of signers.
Watch the ad below.
Bernie Sanders, Sanders Campaign Press Release - Experts Back Sanders' Wall Street Reform Plan, New TV Ad Contrasts 'Democratic Visions' Online by Gerhard Peters and John T. Woolley, The American Presidency Project https://www.presidency.ucsb.edu/node/314084