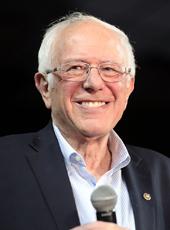 Sanders Campaign Press Release - Clinton is Not Telling the Truth on Auto Bailout
SAN JUAN, Puerto Rico - U.S. Sen. Bernie Sanders' campaign spokesman on Monday said Hillary Clinton should stop trying to distort the truth about Sanders' support for legislation to help carmakers and auto workers.
Campaigning in Kentucky before Tuesday's primary election, Clinton repeated her false claim that Sanders did not vote to fund an auto industry aid package in 2008. In fact, Sanders voted for a $14 billion aid package which passed the House of Representatives on Dec. 10, 2008. When that bill ran into a Senate Republican roadblock, the White House turned to a separate Wall Street bailout fund for loans to the auto industry.
"It is absolutely untrue to say that Sen. Sanders voted against helping the automobile industry and auto workers," said Sanders' spokesman Michael Briggs. "Secretary Clinton first made this false claim before the Michigan primary. She now is recycling the erroneous charge in Kentucky. Once again, Secretary Clinton is simply not telling the truth."
When Clinton first mischaracterized Sanders' position before Michigan's March 8 primary, The Washington Post said Clinton was trying to deceive voters and that she "glosses over a lot . . . including the fact that Sanders is actually on the record as supporting the auto bailout. He even voted for it." The Post also said of Clinton, "It seems like she's willing to take the gamble that fact checkers may call her out for her tactic ... but that voters won't."
Unlike Clinton, Sanders did vote against bailing out big banks after the 2008 economic collapse. "It is true that Sen. Sanders voted against bailing out the crooks on Wall Street whose illegal behavior and greed brought this economy into the worst downturn since the 1930s," Briggs said.
Bernie Sanders, Sanders Campaign Press Release - Clinton is Not Telling the Truth on Auto Bailout Online by Gerhard Peters and John T. Woolley, The American Presidency Project https://www.presidency.ucsb.edu/node/317638