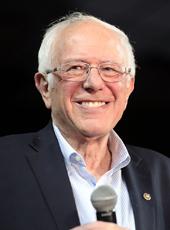 Sanders Campaign Press Release - Clinton Campaign Playing Politics with Guns, Just Like in 2008
GRINNELL, Iowa – Hillary Clinton's campaign is hiding her latest position on guns from voters in Iowa, an Associated Press analysis revealed.
The Clinton campaign has painted their candidate as a fearless advocate for gun safety legislation but, according to the AP analysis, the campaign is downplaying a television ad on gun control in Iowa and in some rural parts of the state the ad hasn't been shown at all.
This latest revelation re-focuses attention on Secretary Clinton's often changing views on gun safety legislation over the years.
In 2000, Secretary Clinton supported registering all handgun purchases or transfers and licensing every gun owner who purchases a weapon.
In 2008, she reversed that position and criticized gun safety legislation at the federal level. She also attacked then-Sen. Obama as being too tough on gun safety. Her posturing in that campaign prompted Obama's famous statement that she sounded like "Annie Oakley." The 2008 Clinton campaign sent out a mailer attacking then-Senator Obama, a mailer that was subsequently used by the NRA to echo those attacks in October 2008.
In the 2016 campaign, she has now moved back to calling for more gun control but apparently is downplaying her views in Iowa for tactical advantage.
Jeff Weaver, Sanders' campaign manager said, "When you really believe an issue is important you don't hide it from voters in one state to gain political advantage. This is exactly what is wrong with the political process. It's no secret that Secretary Clinton has repeatedly changed her views on gun safety from one election to another. Now we see the Clinton campaign is gaming its message from one state to the other within the 2016 election. "
The AP analysis can be found here.
The story about the NRA's use of Clinton material to attack then-Senator Obama can be found here.
To read more about Sanders record on guns, click here.
Bernie Sanders, Sanders Campaign Press Release - Clinton Campaign Playing Politics with Guns, Just Like in 2008 Online by Gerhard Peters and John T. Woolley, The American Presidency Project https://www.presidency.ucsb.edu/node/314911