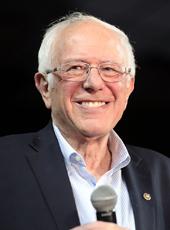 Sanders Campaign Press Release - As Campaign Cash Frenzy Peaks, Sanders Decries 'National Disgrace'
BURLINGTON, Vt. – U.S. Sen. Bernie Sanders today renewed his call for overturning a Supreme Court ruling that led to Tuesday's mad scramble by presidential candidates and the Super PACs bankrolling them for last-minute campaign cash ahead of a midnight deadline. Sanders called the spectacle "a national disgrace."
Sanders renewed his call for overturning the Supreme Court ruling in Citizens United, the 2010 decision which opened the floodgates to unlimited campaign spending by corporations and wealthy individuals.
"It is a national disgrace that billionaires and other extremely wealthy people are able to heavily influence the political process by making huge contributions. The Koch brothers alone will spend more than the Democratic and Republican parties to influence the outcome of next year's elections. That's not democracy, that's oligarchy," Sanders said.
"Elections should be determined by who has the best ideas, not who can hustle the most money from the rich and powerful," the Democratic Party presidential candidate added. "Unless we end this disastrous campaign finance system, our government will continue to represent the interests of the few at the expense of the many."
The comments by Sanders, who has said he does not want help from any Super PACs, came on the last day before the books close on fundraising during the first three months of this year. As the deadline neared, presidential campaigns and Super PACs shifted into high gear to raise as much money as possible in the year's second-quarter filing period. The donations will be detailed in financial disclosure forms to be filed soon with the Federal Election Commission.
Sanders is the Senate sponsor of a constitutional amendment to undo the disastrous Citizens United ruling. He also has said that if he is elected president he would have a litmus test for Supreme Court nominees and would only appoint justices who would vote to reverse the decision.
Sanders' own presidential campaign is supported almost entirely by small contributions that average about $37 apiece from some 200,000 individual donors. As the third-quarter deadline approached, Sanders made an appeal for new supporters to register their backing by making a simple $3 donation.
To see Bernie's e-mail to supporters, click here.
Bernie Sanders, Sanders Campaign Press Release - As Campaign Cash Frenzy Peaks, Sanders Decries 'National Disgrace' Online by Gerhard Peters and John T. Woolley, The American Presidency Project https://www.presidency.ucsb.edu/node/314583