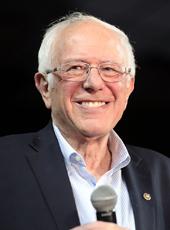 Sanders Campaign Press Release - Bush Buckraking: 'This is Not Democracy'
ARLINGTON, Va. – U.S. Sen. Bernie Sanders on Thursday said Republican presidential candidate Jeb Bush would pursue the agenda of wealthy donors who gave $103 million to a Super PAC supporting the former Florida governor.
Bush disclosed the Super PAC haul plus $11.4 million that his campaign said was donated directly to his war chest during the past three months.
"Jeb Bush and others who take big amounts from the wealthy and powerful come up with an agenda that represents the wealthy and the powerful," Sanders said in remarks to the Northern Virginia Democratic Party. "This is not democracy. This is called oligarchy."
As examples of policies Bush would champion, Sanders cited Bush's assertion this week that Americans, who already work harder and longer than workers in other major countries, should work even longer hours. He also said Bush would cut Social Security and opposes a long overdue updating of overtime rules to raise the pay for some 5 million workers.
Sanders, who is seeking the Democratic Party nomination, called for undoing the 2010 Supreme Court ruling in Citizens United. That's the case which opened the floodgates to unlimited campaign contributions by corporations and billionaire benefactors like Las Vegas casino tycoon Sheldon Adelson and the industrialists Charles and David Koch.
"The fact is that Bush's donors … are undermining the foundation of American democracy," Sanders said.
Bernie Sanders, Sanders Campaign Press Release - Bush Buckraking: 'This is Not Democracy' Online by Gerhard Peters and John T. Woolley, The American Presidency Project https://www.presidency.ucsb.edu/node/314900