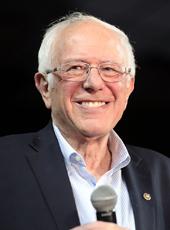 Sanders Campaign Press Release - 'Bringing People Together,' is Campaign's Core, Sanders Tells Another Record Rally
PORTLAND, Ore. – Shattering a day-old record, 28,000 backers of Bernie Sanders on Sunday filled all the seats and crowded into overflow areas outside the Moda Center sports arena where the NBA's Portland Trail Blazers play.
"Whoa. This is an unbelievable turnout," Sanders said after he walked onto the stage. Consistently drawing bigger turnouts than any other presidential contender, Sanders told the packed Portland arena, "You've done it better than anyone else." The arena seats were filled and thousands more listened to the speech on loudspeakers outside, according to Michael Lewellen, a Rose Quarter vice president. The total turnout far surpassed the 15,000 in Seattle just 24 hours earlier.
The big and boisterous crowds, Sanders said, are sending a message that it's time to reverse the four-decade decline of the American middle class and launch a grassroots "political revolution" to take on the billionaire class. "Bringing people together," Sanders added, is at the core of his campaign.
Sanders also called for criminal justice reform. "There is no candidate who will fight harder to end institutional racism in this country and to reform our broken criminal justice system," he said.
In the nearly hour-long speech, Sanders touched on economic and jobs proposals, criminal justice reform and civil rights issues.
On domestic issues, the U.S. senator from Vermont advocated raising the minimum wage to $15 an hour by 2020, closing tax loopholes exploited by the wealthy and profitable corporations, undertaking a massive $1 trillion program to fix roads and bridges and create or sustain 13 million jobs, a Medicare-for-all health care system to provide better care for more people at less cost, an expansion of Social Security and tuition-free college.
In an interview broadcast earlier Sunday on the CBS program "Face the Nation," Sanders had made the case for the agreement with Iran reached by President Barack Obama and Secretary of State John Kerry. "Look, I'm not going to tell you that this is a perfect agreement," he said. "But the United States has to negotiate with other countries. We have to negotiate with Iran. And the alternative of not reaching an agreement, you know what it is? It's war. Do we really want another war, a war with Iran?"
Watch the video:
Bernie Sanders, Sanders Campaign Press Release - 'Bringing People Together,' is Campaign's Core, Sanders Tells Another Record Rally Online by Gerhard Peters and John T. Woolley, The American Presidency Project https://www.presidency.ucsb.edu/node/314329