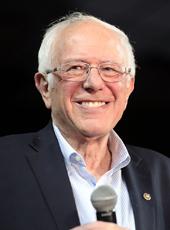 Sanders Campaign Press Release - Bernie's People-Powered Campaign Draws Big Crowds in Iowa, More than 34,000 at Campaign Stops Since Campaign Kickoff
DES MOINES, Iowa – More than 500 people, bundled in winter coats, turned out Thursday on New Year's Eve at an elementary school in rural Knoxville, Iowa, to hear Democratic presidential candidate Bernie Sanders. The night before, another 800 people packed into a meeting place decorated with holiday ornaments in snow-covered Ottumwa, Iowa.
The big turnouts during a three-day campaign swing across Iowa pushed to more than 34,000 the total number of supporters and others who came to Sanders' campaign events since his bid for the White House officially began last April 30. Another 1,000 campaign volunteers and others are expected at a New Year's Eve party that Sanders is throwing Thursday night here in the state capital.
With the Feb. 1 precinct caucuses only one month away, Sanders thanked Iowans for taking seriously their unique role in the American presidential nomination process.
"We are running a simple, straightforward grassroots campaign. Nothing fancy. We are discussing the major issues facing our country and hearing what Iowans have to say. I am very pleased that the turnouts at our meetings have been large and seem to be getting larger every day," Sanders said. "As of the end of the year, we have had town meetings and rallies which have brought out more than 34,000 people. By the end of the campaign here in Iowa I suspect the number will be closer to 50,000."
"We sense real growing momentum here in Iowa and we think we have a great opportunity to win," Sanders added.
The 34,702 figure only counts Sanders-sponsored campaign events since April 30. All told, the senator hosted 49 meetings in Iowa since last spring. The total does not include, for example, major Iowa Democratic Party dinners attended by Sanders and other candidates or the record crowd on the midway at the Iowa State Fair last August when Sanders drew a bigger crowd than any presidential candidate at The Des Moines Register Soapbox.
To see where Sanders has drawn big crowds in Iowa, click here.
Bernie Sanders, Sanders Campaign Press Release - Bernie's People-Powered Campaign Draws Big Crowds in Iowa, More than 34,000 at Campaign Stops Since Campaign Kickoff Online by Gerhard Peters and John T. Woolley, The American Presidency Project https://www.presidency.ucsb.edu/node/314085