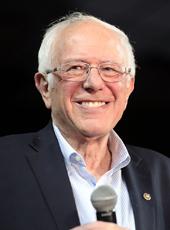 Sanders Campaign Press Release - Bernie Sanders Earns Endorsement of United Steelworkers Local 1999
INDIANAPOLIS — U.S. Sen. Bernie Sanders' campaign today announced that he has earned the endorsement of United Steelworkers Local 1999, whose members stand to lose 1,400 jobs with Carrier Corporation's decision to ship jobs from Indianapolis to Mexico.
"Bernie Sanders for decades has fought against the kinds of disastrous trade deals that are now allowing Carrier to ship over a thousand good-paying Indiana jobs to Mexico," said Local 1999 president Chuck Jones. "Bernie Sanders is the only candidate running for president who will do something to stop this kind of corporate greed if he is elected – because he's been fighting against it for years. We will be doing everything we can to help him win the primary here in Indiana on May 3."
Sanders previously denounced the decision by Carrier's parent company, United Technologies, to move operations to Mexico.
"The decision by United Technologies to ship 2,100 jobs from Indiana to Mexico is the latest example of how NAFTA and other trade policies have been a disaster for American workers," said Sanders. "In my view, we have got to fundamentally rewrite our failed trade policies so that American jobs are no longer our number one export. I was proud to help lead the effort against NAFTA and Permanent Normal Trade Relations with China. Unfortunately, Secretary Clinton supported these trade policies which have led to the loss of millions of jobs and thousands of factories."
In the last week, Sanders has also earned the endorsement of Indianapolis City-County Councillors Zach Adamson and Jared Evans. Both cited Sanders' opposition to free trade agreements and Carrier Corp's decision as one of the major reasons for their support.
The Sanders campaign is running strong in Indiana, with field offices open in Bloomington, Evansville, Fort Wayne, Gary, Indianapolis, Lafayette, Muncie, South Bend and Terre Haute. Supporters of Bernie Sanders will have the chance to vote for him during the primary election on May 3. Early voting started April 5.
Bernie Sanders, Sanders Campaign Press Release - Bernie Sanders Earns Endorsement of United Steelworkers Local 1999 Online by Gerhard Peters and John T. Woolley, The American Presidency Project https://www.presidency.ucsb.edu/node/318327