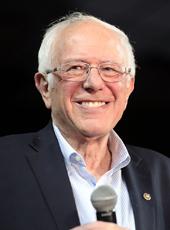 Sanders Campaign Press Release - Bernie Bolsters Iowa Campaign
DES MOINES – Democratic presidential candidate Bernie Sanders' campaign announced on Monday that five new senior members have joined an already-impressive team assembled by Campaign Coordinator Pete D'Alessandro.
Robert Becker has signed on as state director. Susana Cervantes is the regional field director for Sioux City. Beth Farvour is the regional field Director for Iowa City. Margaret Jarosz is regional field director in Dubuque. And Iowa caucus veteran Brendan Summers came on board as caucus director.
Becker has been managing political campaigns around the world for 25 years. In 2000, he was a regional field director for former Sen. Bill Bradley's Iowa bid and was former New Mexico Gov. Bill Richardson's 2008 Iowa state director. Becker has worked on Democratic campaigns across 2-states and managed several ground-breaking efforts, including Jared Polis' historic 2008 victory in Colorado, in which he became the first openly gay man to run and win a seat in Congress. He has also worked extensively internationally, organizing and training political activists in countries emerging from repressive regimes, including Egypt and Libya following the Arab Spring.
Cervantes most recently was the Western Iowa field director for Run Warren Run and has extensive background in grassroots organizing having worked for the Nevada Democratic Party, Organizing for Action in Chicago and in 2012 as a field organizer for President Obama's re-election campaign in Las Vegas. Her organizing roots originate from her work as a Union Organizer for the United Farm Workers Union in California.
Farvour served as a regional field director for Run Warren Run in Iowa's 2nd Congressional District and has organized on behalf of Democrats in her native Wisconsin, including Mary Burke's 2014 gubernatorial campaign.
Jarosz also was a regional field director for Run Warren Run in Iowa. She started in local politics and issue-based organizing in Wisconsin, eventually joining the 2012 Obama for America re-election campaign. Prior to joining Run Warren Run she was a Field Organizer for Battleground Texas during Wendy Davis' campaign for governor.
Summers returns to Iowa in the role of statewide caucus director. Summers is an Iowa politics veteran having worked in many roles over the last decade, including serving as the Iowa Democratic Party's 2008 Caucus-to-Convention Director and from 2010-2012 as the party caucus director. Summers possesses extensive expertise on the Iowa Caucus process, having been responsible for drafting and maintaining compliance of Iowa's 2008 and 2012 delegate selection plan.
"From day one we vowed to assemble a top-notch campaign team in Iowa and we continue to demonstrate our commitment to doing just that," said Jeff Weaver, Sanders' national campaign director. "Iowa's caucus process is tailor-made for Bernie Sanders' grassroots style of campaigning and we will continue to build a first-in-the-nation organization to capitalize on that strength."
Bernie Sanders, Sanders Campaign Press Release - Bernie Bolsters Iowa Campaign Online by Gerhard Peters and John T. Woolley, The American Presidency Project https://www.presidency.ucsb.edu/node/314826