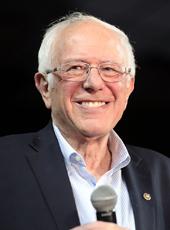 Sanders Campaign Press Release - Bernie Beats the Clinton Money Machine, Again
BURLINGTON, Vt. – Hillary Clinton's Campaign Manager Robby Mook on Tuesday confirmed that Bernie Sanders "substantially outraised" the former secretary of state in February. Bernie Sanders' presidential campaign announced an impressive $42.7 million raised in the month as the fundraising deadline closed at midnight last night.
"Donald Trump is going to have plenty of money to compete in November," said Jeff Weaver, Sanders' campaign manager said. "It's important that our nominee be able to raise the hundreds of millions of dollars necessary to defeat the Republicans in November. Secretary Clinton's reliance on maxed-out mega-donors isn't sustainable and should scare Democrats who want to keep the White House in November."
February marks the second month that Sanders' grassroots donors have outperformed a fundraising machine that was once widely regarded as unstoppable. In January, Clinton's backers donated just $15 million to her campaign, while Sanders' small-dollar donors gave more than $21 million.
Clinton's committee has taken the majority of its reported money from maxed-out donors who cannot give again. In fact, about 55 percent of her money comes from donors who cannot give again. More than 99.9 percent of Sanders' donors can give again.
In February, Secretary Clinton spent significant time attending an average of more than one high-dollar fundraising event every other day, often leaving the trail to raise money from financial interests in New York, Chicago, Los Angeles and Philadelphia. But Clinton can't keep up with Sanders' small-dollar fundraising operation, forcing her allied super PAC, which has raised millions from Wall Street, to spend on advertising. Sanders attended zero fundraisers in February, as his campaign brought in 98 percent of its money online, allowing him to spend more time talking to voters about fixing a rigged economy held in place by a broken campaign finance system.
The Sanders campaign in total has tallied more than 4.7 million contributions, compared to Clinton's 1.5 million. February's fundraising brings the campaign's total raised this cycle to more than $137 million.
Bernie Sanders, Sanders Campaign Press Release - Bernie Beats the Clinton Money Machine, Again Online by Gerhard Peters and John T. Woolley, The American Presidency Project https://www.presidency.ucsb.edu/node/314063