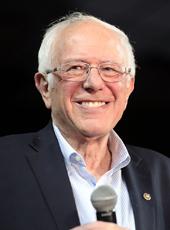 Sanders Campaign Press Release - Bernie 2020 Rolls Out New SC Endorsements
Newest announcement shows the growing momentum in South Carolina and across the country
COLUMBIA, SC – On the heels of Monday's announcement that one hundred elected officials, activists and community leaders from across the country have endorsed Sen. Bernie Sanders for President, Bernie 2020 is keeping the momentum going today by unveiling several new endorsements in South Carolina.
Those endorsements include Beaufort County School Board Member William Smith, Georgetown City Councilman Tupelo Humes, SCDP Executive Committee Member Marcurius Byrd, USW Local 7898 President James Sanderson, Jr and Rosemont Neighborhood President Nancy Button.
"These endorsements prove that the momentum were seeing here in South Carolina and across the nation is real," said Bernie 2020 SC State Director Kwadjo Campbell. "We're honored to have these local leaders join the team and we're excited about what the future has in store as we pick up steam heading toward Election Day."
Councilman Tupelo Humes
Member, Georgetown City Council
"Whether being arrested while protesting segregated housing in Chicago or standing shoulder to shoulder on the picket line with workers fighting for an honest day's pay, Bernie Sanders doesn't just talk about change - he takes action. He shows us again and again that we don't have to stand alone against the big donors and the company men because he stands with us.
"That's why he's been able to break millions of dollars from small donors alone. That's why he has the largest network of grassroots volunteers in the race. That's why he repeatedly beats Donald Trump in battleground states across America and that's why he has my full support.
"The same old politicians singing the same old song won't win in 2020. Bernie Sanders will."
William Smith
Member (District 3), Beaufort County Board of Education
"Growing up the son of a single mother, I learned early on that life wasn't fair. It wasn't fair that we struggled with poverty though my mother worked every second she could. It wasn't fair that I started school behind because we couldn't afford Pre-K. It wasn't fair that every step was harder the people with the power to do something didn't care enough to use it.
"But when Sen. Bernie Sanders visited my community, I finally saw a leader willing to fight for me. And it wasn't just talk. He'd actually done it. He doesn't send excuses or empty promises, he stands with us in the trenches. He marches with us on the picket lines. So when he talks about doubling teacher salaries and Medicare for All, you know he means it.
"Let me be clear: Bernie Sanders is the only candidate truly standing up for me and my community. That's why I'm standing with him."
Marcurius Byrd
Executive Committee Member, SC Democratic Party
"The simple truth is that issues like climate change, Medicare for All, raising the minimum wage to $15 and ending the War on Drugs are only in the political mainstream today because of Sen. Bernie Sanders. From day one, he's been leading the fight and standing up for working families whether it was popular or not.
"That's the kind of courage we need in the White House and that's why I'm proud to support Sen. Bernie Sanders for President of the United States of America."
James E. Sanderson, Jr.
President and Unit Chair, USW Local 7898
"From taking on big corporations like Amazon and Walmart to announcing the most forward-thinking workplace democracy plan in generations, Bernie Sanders has always fought for workers and union members across the country.
"More importantly, by joining auto workers on the picket line as they fight for fair wages and treatment, he shows us again that he's willing to walk the walk. By consistently putting himself on the picket line, he's made solidarity with the working class a requirement of all candidates.
"Others may talk about working families but Bernie Sanders takes action. That's why I am proud to support him for President of the United States."
Nancy Button
President, Rosemont Neighborhood Council
"For me and the folks in my community, healthcare is the number one issue. We need someone who will stand up to the insurance and pharmaceutical industries. We need someone who will make sure every American gets to see a doctor when they're sick. We need someone who will stand up for the working folks in my neighborhood.
"That someone is Sen. Bernie Sanders."
Bernie Sanders, Sanders Campaign Press Release - Bernie 2020 Rolls Out New SC Endorsements Online by Gerhard Peters and John T. Woolley, The American Presidency Project https://www.presidency.ucsb.edu/node/366459