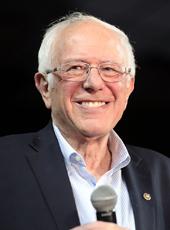 Sanders Campaign Press Release - Bernie 2020 Rolls Out Massive List of Endorsements from Across the Country
WASHINGTON - In just the last week, Bernie 2020 announced endorsements from one hundred elected officials, activists, and community leaders from across the country, including in California, Colorado, Illinois, Iowa, Ohio, Indiana, Missouri, New Hampshire, Rhode Island, and South Carolina, among others.
The endorsements follow a rally and endorsement from Rep. Rashida Tlaib yesterday in Detroit, as well as endorsements from Reps Alexandria Ocasio-Cortez and Ilhan Omar. The endorsements represent a diverse slate local leaders and progressive elected officials and show the strength of Sanders movement in communities across the country.
"From Rhode Island to California progressive leaders are getting behind Bernie Sanders' campaign for president, because they know he is the only candidate running who has the guts to take on the corporate elites and the billionaire class," said Faiz Shakir, Bernie 2020 Campaign Manager. "We are proud to have the support of so many progressive leaders. This is a growing movement, driven by both justice and compassion, that will defeat Trump and transform America."
Endorsements include Iowa's Linn County Supervisor Stacey Walker and New Hampshire's Nashua Alderwoman-at-Large Shoshanna Kelly, a rising star in New Hampshire Democratic Party, and first person of color elected to her office in Nashua, as well as multiple mayors in California including Berkeley Mayor Jesse Arreguin and San Luis Obispo Mayor Bruce Delgado.
IOWA
Stacey Walker, Supervisor, Linn County, IA
NEW HAMPSHIRE
Shoshanna Kelly, Nashua Alderwoman-at-Large
CALIFORNIA
Aziz Akbari, Director, Alameda County Water District, Fremont, CA
Carlos Goytia, Division 1 Director, Three Valleys Municipal Water District, Pomona, CA
Soli Alpert, Berkeley Rent Stabilization Board Member, Berkeley, CA
Maimona Afzal Berta, Clerk and Member, Franklin-McKinley Board of Education, SanJose, CA
Derek Devermont, Member, Santa Monica Social Services Commission, Santa Monica, CA
John Selawsky, Rent Control Board Member, Berkeley, CA
Alejandro Soto-Vigil, Berkeley Rent Stabilization Board Member, Berkeley, CA
Igor Tregub, Berkeley Rent Stabilization Board Member, Berkeley, CA
Leah Simon-Weisberg, Vice-Chair, Berkeley Rent Stabilization Board Berkeley, CA
Jan Shriner, Vice President, Marina Coast Water District Board of Directors, Marina, CA
Paola Laverde, Chair, Berkeley Rent Stabilization Board, Berkeley, CA
Mark Sanchez, Vice President, San Francisco Board of Ed, San Francisco, CA
Gabriela López, Commissioner, San Francisco Board of Education, San Francisco, CA
Thea Selby, Trustee, San Francisco City College Board of Trustees, San Francisco, CA
Ivy Lee, Trustee, San Francisco City College Board of Trustees, San Francisco, CA
Brigitte Davila, Trustee, San Francisco City College Board of Trustees, San Francisco, CA
Anthony Rocha, Trustee, Salinas Union High School District, Salinas, CA
Shanell Williams, Trustee, San Francisco City College Board of Trustees, San Francisco, CA
Cipriano Vargas, Vice President, Vista Unified School District's Board of Education, Vista, CA
Victor Aguilar, Jr., Council Member, San Leandro, CA
Vinnie Bacon, Councilmember, Fremont, CA
Corinna Contreras, Council Member, Vista City Council Vista, CA
Cheryl Davila, Berkeley City Council Berkeley, CA
Rubio Gonzalez, Council Member (District 1), Pomona, CA
Alan Haffa, Councilmember, Monterey City Council, Monterey, CA
Kate Harrison, Berkeley City Councilmember (District 4), Berkeley, CA
Felipe Hernandez, Council Member (District 1), Watsonville, CA
Jenny Kassan, Council Member (District 3), Fremont, CA
Rolan Resendiz, Council Member (District 2), Hollister, CA
Jon Wizard, Seaside City Council, Seaside City, CA
David Canepa, Supervisor, San Mateo, CA
Gordon Mar, Supervisor (District 4), San Francisco, CA
Aaron Peskin, Supervisor, San Francisco CA
Hillary Ronen, San Francisco Board Supervisor, San Francisco, CA
Jenny Wong, Berkeley City Auditor, Berkeley, CA
Jesse Arreguin, Mayor, Berkeley, CA
Bruce Delgado, Mayor, Marina, CA
Jose Gurrola, Mayor, Arvin, CA
Heidi Harmon, Mayor, San Luis Obispo, CA
Sam Hindi, Mayor, Foster City, CA
Rochelle Pardue-Okimoto, Mayor, El Cerrito, CA
Elizabeth Alcantar Loza, Vice Mayor, Cudahy, CA
David Arambula, Mayor Pro Tem, Lemon Grove, CA
Salvador Melendez, Mayor Pro Tem, Montebello, CA
David Campos, San Francisco DCCC Chair and Former County Supervisor, San Francisco, CA
Lenny Siegel, Former Mayor, Mountain View, CA
Tom Ammiano, Former State Assemblymember and San Francisco Supervisor, San Francisco, CA
John Avalos, Former San Francisco Supervisor, San Francisco, CA
Jovanka Beckles, Former Richmond City Councilmember, Richmond, CA
Oscar Magaña, Former Mayor, Maywood, CA
COLORADO
Emily Sirota, State Representative (District 9), Denver CO
Dana Manning, CO Working Families Party CD1, Denver CO
Mike McCorkle, CO Working Families Party CD7, Boulder CO
Laurie Roberts, CO Working Families Party CD3, Boulder CO
Cleo Dioletis, CO Working Families Party, Denver CO
Kristofer Dubbels, Co-founder and former Chair, Denver Democratic Socialists ofAmerica, Denver, CO
Sarah Morgan, CO Working Families Party State Committee, Denver, CO
Joe Salazar, CO Working Families Party Executive Committee; Fmr. State Rep. Denver, CO
Kayla Smith, CO Working Families Party, Denver, CO
Ashlyn Velasquez, CO Working Families Party State Committee, Denver, CO
Jeri Shepherd, DNC Member, WFP State Committee Member, Greeley, CO
Terry Tucker, DNC Member, WFP State Committee Member, Jefferson County, CO
Rafael Espinoza, Former Denver City Councilman, Denver, CO
Mike Merrifield, Former State Senator, Colorado Springs, CO
NEW YORK
Michael Gianaris, State Senator, District 12, Deputy Majority Leader, Queens, NY
Jessica Ramos, State Senator, District 13, Queens, NY
Luis Sepúlveda, State Senator, District 32, Bronx, NY
ILLINOIS
Dylan Parker, Alderman, 5th Ward, Rock Island, IL
Rossana Rodriguez, Alderwoman, 33rd Ward, Chicago, IL
Carlos Ramirez-Rosa, Alderman, 35th Ward, Chicago, IL
Susan Sadlowski Garza, Alderwoman, 10th Ward, Chicago, IL
Byron Sigcho Lopez, Alderman, 25th Ward, Chicago, IL
Jeanette B. Taylor, Alderwoman, 20th Ward, Chicago, IL
Andre Vasquez, Alderman, 40th Ward, Chicago, IL
Jenn Jazmin Carrillo, Council Member (Ward 6), Bloomington, IL
Alma E. Anaya, Commissioner, Cook County, IL
Carol Ammons, State Representative, Chicago, IL
Aaron Ortiz, State Representative, Chicago, IL
Litesa Wallace, Former State Representative (67th District), Rockford, IL
Claudio Gómez-Gonzáles, Co-President, Graduate Students United at the University of Chicago, IFT-AFT-AAUP, Chicago, IL
Jackson Potter, Executive Board Member and Trustee, Chicago Teachers Union; High School Social Studies Teacher, Chicago, IL
INDIANA
Dave Vinzant, City Councilman (Ward 4), Hobart, IN
Chuck Jones, Wayne Township Trustee and Former USW Local 1999 President, Wayne Township, IN
MISSOURI
Curtis Wylde, DNC Member, St Louis, MO
MICHIGAN
Eric-John Szczepaniak, Trustee, Kenowa Hills School Board, Grand Rapids, MI
Ryan Bennett, Business Manager, West Michigan Plumbers and Pipefitters Union, MI
OHIO
Trevor Elkins, Mayor, Newburgh Heights, OH
CJ Prentiss, Former State Senator, District 21, Cleveland, OH
Michael Charney, Former Vice President of the Cleveland Teachers Union, Cleveland, OH
Tristain Radar, Councilman, Lakewood, OH
WISCONSIN
Marcelia Nicholson, Vice Chairwoman, Milwaukee County Board of Supervisors, Milwaukee, WI
Steven Shea, Supervisor (District 8), Milwaukee County, WI
Heidi Wegleitner, Dane County Supervisor (District 2), Madison, WI
John Weishan, Jr., Supervisor (District 16), Milwaukee, WI
Randy Bryce, Labor Activist, Caledonia, WI
MASSACHUSETTS
Wilfred Mbah, Council Member, Somerville, MA
RHODE ISLAND
Alex Kithes, Council Member, Woonsocket, RI
Bernie Sanders, Sanders Campaign Press Release - Bernie 2020 Rolls Out Massive List of Endorsements from Across the Country Online by Gerhard Peters and John T. Woolley, The American Presidency Project https://www.presidency.ucsb.edu/node/366485