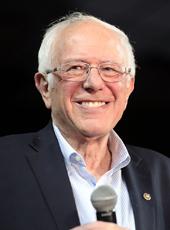 Sanders Campaign Press Release - 1,220 Rally for a Political Revolution in Portsmouth
PORTSMOUTH, N.H. – U.S. Sen. Bernie Sanders on Sunday brought his presidential campaign to a college gymnasium here where more than 1,200 loud and boisterous supporters cheered his rallying cry for a political revolution.
Sanders said a growing grassroots movement in New Hampshire and across the United States is taking on Wall Street, corporate America and the corporate media. "Our most important task is to revitalize American democracy," Sanders said at the Great Bay Community College, "and when we do that we change America."
Speaking from a podium surrounded by the crowd, Sanders delivered a succinct message. "You are dealing with a corrupt campaign finance system which is enabling billionaires to buy elections," he said. "You are dealing with a rigged economy in which people are working longer hours for lower wages and almost all of the income goes to the top 1 percent."
Sanders detailed a list of proposals which include closing tax loopholes exploited by profitable corporations and wealthy individuals to finance a massive program to rebuild crumbling roads and bridges. He said he would enact a tax on Wall Street speculators to pay for tuition-free public colleges and universities.
He called for pay equity for women, raising the minimum wage to $15 an hour by 2020, moving to a Medicare-for-all health care system and strengthening Social Security. He outlined bold steps to combat climate change. He advocated reforms in the criminal justice system and spoke out for immigration reform.
On foreign policy, Sanders said he had been "lectured" by critics in recent days about his relative experience compared to the former secretary of state. He drew perhaps the loudest applause of the day when he cited his vote against invading Iraq. "I was right and Hillary Clinton was wrong," he said to cheers.
In the final days on the campaign trail before Tuesday's first-in-the-nation presidential primary, Sanders noted that he had climbed from far behind in New Hampshire polls last spring and is now ahead of Clinton in the state where she defeated then Illinois Sen. Barack Obama in 2008.
He had stressed in an interview earlier Sunday on WMUR-TV in Manchester, New Hampshire, that he believes the results on Election Day will be tight. "We think it's going to be a close election, we're working really hard," Sanders told Jake Tapper in an interview broadcast Sunday on CNN's "State of the Union."
Bernie Sanders, Sanders Campaign Press Release - 1,220 Rally for a Political Revolution in Portsmouth Online by Gerhard Peters and John T. Woolley, The American Presidency Project https://www.presidency.ucsb.edu/node/314895