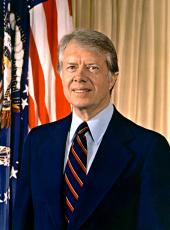 Salt Lake City, Utah Remarks at Mormon Church Ceremonies Honoring Family Unity.
President Kimball, President Romney, President Tanner, members of the Council of the Twelve Apostles, distinguished representatives of the governments at all levels, ladies and gentlemen:
This is absolutely beautiful. And I'm very honored, Mr. President, that you would present this to me.
I'm also honored to be here with you in this beautiful place. I came a little earlier than the audience may have known, and I was pleased to watch the absolutely delightful and memorable television spots that remind all of us who are members of families what our duties are, to hear the Primary Children's Chorus singing "I Am a Child of God," to hear the Lamanite Generation, Native Americans, singing "Go, My Son," and then, of course, to come in and meet the Osmond family, which is a very famous and admirable group in our Nation.
It's a pleasure for me to receive this award, representing a typical American family, and I want to thank you for it.
As a matter of fact, I had my typical American family this past weekend at Camp David, 30 of the members of my family. I finally escaped yesterday. [Laughter] After 2 or 3 intense days of negotiation, I think we reached a framework for peace among ourselves. [Laughter] It was nice to keep my family out of the news for a few days. [Laughter] It was one of the most delightful experiences in many years for me.
We have a large family, a close family, an exciting family, and one which has given one another great help and support and encouragement in times of difficulty or excitement or joy or achievement or

sorrow.
There's nothing that gives me more pleasure, even as President of the United States, than to have Amy come to me in the evening, when I'm tired and concerned and worried, and put her arms around my neck and give me a kiss. She was born, my first daughter, after Rosalynn and I had been married 21 years. And she now is proud to call herself a double-digit preteenager. [Laughter] She's a great young lady and the joy of our lives.
And I was able to have with me in the last few days my two grandsons. And we're expecting, I hope, a new granddaughter in just a few days from now. [Laughter]
When I was invited to come here for this special observance of the family-what it means under the guidance of Jesus Christ and the great Nation of the United States of America, supported and strengthened by the Church of Jesus Christ of Latter-day Saints, publicized and promoted by this special week—I wondered what I wanted to say to you. I thought about the early Mormons coming across this country, singing a famous hymn, I think, that originated in England, "Come, Come Ye Saints." I thought about the times of trial in our country, a time when strength was demanded of all of us, a time when we sometimes feel alone.
Only a deep faith could let the words of that song, "All Is Well," ring out. In times when you and your forefathers were persecuted, driven one from another, crossed this land looking for freedom, a chance to worship in your own way, when perhaps you knew that you were about to die, when drought and thirst afflicted you and still the song rang out—"All Is Well." This is indeed a demonstration of an act of faith and a reaffirmation of hope.
I come here as President of a great country. And in that same act of faith and in affirmation of hope, I tell you that our Nation can say all is well. And even the American family can be characterized by the same phrase, all is well. Because as was your early church in the minds and hearts of your own forefathers, so is our Nation and the family so precious, so dear, so innately good and right and decent and strong, that challenges to us, to our Nation, to the American family can successfully be withstood.
I grew up in an isolated place, 3 miles west of Plains, Georgia, on a farm, where a family was indeed a self-contained community, where every member of the family felt wanted and loved and secure. When I was sad or hurt, my mother was there, my father was there. We worked together. Some plowed a mule; some carried and dropped a seed or fertilizer; some hoed out weeds; some carried water to the field for the others to drink; some took care of the hogs or the cows or the chickens; some kept the home secure. But in every instance each knew that the other one was contributing, and the children understood the function of the parents, and the parents understood and loved the children. There was easy communication among us. And in our relatively primitive, isolated state of living, we were bound together by love.
My first church was my family. I first heard the Bible read in my family. I first heard prayer in my family. I learned about God within the family. My first school was my family. My first government was my family. There, in an embryonic stage of growth, I began to perceive the world around me. And when I had questions, they were answered. When I had doubts, they were resolved. When I had needs, they were met. My family was strong. And there was very little need for services to be derived from government for us.
And since I've served in the State legislature and as Governor of a State and now as President, and participated in international affairs, I've learned more and more that the stronger a family is, the stronger families are, the less role there is to be played by government. Our government spends a great deal of its time and effort, a great deal of your money repairing damages caused by weak or broken families.
We have signs of deteriorating family structures in our country that cause us great concern. And there's not any inherent reason for it. I agree with a rabbi named Heschel, who said, "I've never understood how a father can take care of 12 children, and 12 children can't take care of 1 father."
But when families fail, governments must act. And sometimes they act in error. When massive programs are put together through government, the individuality of human beings is sometimes forgotten and the sensitivity is lost. Our welfare programs, for instance, in some of their aspects, are antifamily. They function only when a father has actually left a home. And sometimes fathers leave homes temporarily, through subterfuge, sometimes permanently, just so a child can be fed.
In our modern, mobile, permissive society, the basic moral strengths that bind families together are sometimes weakened or broken entirely. For every two marriages that took place in the United States last year, there was one divorce. For people born in the early years of this century and later married, only 1 out of 10 marriages resulted in divorce. For Americans born since World War II who married, one out of three marriages results in divorce.
Children are troubled. Teenage suicide has doubled in the last 10 years, and now the second most prevalent cause of death among male teenagers is suicide. Births out of wedlock are increasing rapidly.
I could go on and on. But these brutal and disturbing statistics are caused by a lack of strength among family members. Lily Tomlin says as a joke, "We're all in this alone." And sometimes we feel that in a fast-moving, modern, technological society that we're alone, not as it was in former generations—because of separation of distance—because now we can be alone in a crowded apartment building, because our next-door neighbors remain strangers.
A family is a mutual improvement society. All of us have weaknesses, faults, fears, yearnings, hopes, dreams, ideals that we can't realize alone, and the support and the concern and the understanding and the care and, sometimes, the criticism and punishment in a constructive way help to repair our weaknesses.
I don't know of any man who is more deeply indebted to one's family than am I. I've had great political ambitions. I've traveled widely. And my family has always gone a second mile in giving me their love and their actual support. Never once have I asked my mother, my brother, my sisters, my children, my wife to give me their help or their confidence when they said, "Your ambitions are too great. I've got my own life to live. I'd rather not give you my help."
Your great church epitomizes to me what a family ought to be—a church that believes, through moral imperative, in strong families, in individualism, the right to be different, but the opportunity and even duty to grow as a human being, to prepare oneself for greater service. The relief society organized by your church has brought blessings to tens of thousands of people, not in a highly publicized way, but in a quiet and effective way.
And when your forebears first reached this valley, in less than 3 years there was a new college. At that time there was a common belief in our Nation that women couldn't stand the rigors of college life, but you knew different. And now this State has the highest educational level of any State in the Nation.
The State constitution recognized in 1896 that women and men should have the same civil, political, religious rights and privileges. And we are trying now to spread that same commitment throughout our entire Nation. The recognition of what a human being is, what a human being can be, is important. But a commitment of one person to another to realize that great potential is an element sometimes missing in our modern society.
Many people these days feel alone. There is a Yiddish proverb, a religious proverb, that says, "God gave burdens, also shoulders." A simple proverb—it doesn't say God gave us burdens, but he gave us shoulders strong enough to bear them, it just says, "God gave burdens, also shoulders." We not only have our own shoulders to carry burdens, but we have others to help, not just to carry burdens but, sometimes, shoulders to cry on. Those shoulders let us bear the burdens of life.
And with each generation comes a tremendous challenge, difficulties, and most of those challenges and difficulties are derived from mandatory change. We tend to think the changes that take place in our own life are the greatest that have ever afflicted any generation, but this is not true.
Our early forebears in this Nation offered their lives, all their belongings, even their family security, to achieve freedom, liberty. Later, our Nation was torn by a War Between the States. Pioneers moved West. The changes that took place in individual lives then were much greater than those that take place today.
But we learned in a time of change, no matter which generation it is, that there are some things which do not change. Those things can be described as the elements of a good family—truth, unselfishness, idealism, commitment, courage, understanding, morality, security, love. As a father, I understand those things. As a husband, I understand those things. As President, I understand the same things.
There are legitimate roles for a government to perform: to assure that our Nation lives in peace; to assure that our people have an opportunity for employment, for jobs, to use what talent God might have given them in a sustained and productive way; to eliminate the threats to society, to the family—drugs, crime; to initiate preventive health care; to provide for better education, transportation, security; to cut down on some of the afflictions, such as unwanted pregnancies that lead to abortions, things that deeply religious people and others deplore; to raise the ideals of individuals; and to sustain the ideals and morals of a nation itself.
I know how much less difficult my own duties would be as President if your mammoth crusade for stable and strong families should be successful. That's why I feel a close kinship with you and a partnership with you in achieving this noble purpose.
Each person's sphere of influence need not be great. A father, a mother, a child can change the course of human history, can change the character of a community, a State, or even a nation. If we cling to those things, that should never change.
God gave us burdens, also shoulders, so that we, working together under religious teachings that we study from different perspectives, in a nation committed to individualism and freedom and high purpose, might be successful and that you and I together might enjoy stronger families and a greater and stronger nation.
Thank you very much.
Note: The President spoke at 2: 24 p.m. at the Mormon Tabernacle after receiving the Family Unity Award, a statuette entitled "Love at Home," from Spencer W. Kimball, president of the Church of Jesus Christ of Latter-day Saints. In his opening remarks, he also referred to President Marion G. Romney, second counselor, and President N. Eldon Tanner, first counselor, of the First Presidency of the Mormon Church.
The ceremonies were held in conjunction with National Family Week, 1978, which was proclaimed by the President on October 20 by Proclamation 4606.
Jimmy Carter, Salt Lake City, Utah Remarks at Mormon Church Ceremonies Honoring Family Unity. Online by Gerhard Peters and John T. Woolley, The American Presidency Project https://www.presidency.ucsb.edu/node/244361