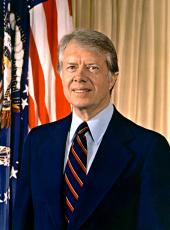 Saint-Francois, Guadeloupe Remarks to Reporters Following the Conclusion of Meetings Between the President and Western European Leaders
PRESIDENT GISCARD D'ESTAING. I will now give you the results of our talks. First, I would like to emphasize the personal and trusting nature of our conversations. We have, in fact, stuck to the initial objective of this meeting, which was to have a political and global consideration of the situation, and in particular, we did not go into such matters as economic and monetary considerations.
For me—and like my colleagues, I've taken part in a number of international meetings—I would like to say that I consider that our discussions went into considerable substance and depth. We found no divergence among us concerning the assessment of the situation. Naturally, there were differences in the stresses placed on certain features, but there was no divergence.
Our talks have brought to light a dual objective, which is, first, to increase security and, secondly, to reduce tension in the world.
We considered that the legitimate recognition of the realities of the present-day world should be accompanied by the pursuit of efforts designed to improve the world situation and, in particular, the pursuit of the efforts towards detente and the efforts towards limitations of armaments and, in particular, expressing the hope for an early conclusion of the SALT agreement. Finally, special attention was devoted to the development of the North-South relations.
Now, if you want me to engage in the usual exercise of trying to find appropriate adjectives to qualify a meeting, I would say that the adjectives that come to mind would be as follows: The meeting has been frank, friendly, and useful.
PRIME MINISTER CALLAGHAN. I would like to begin by thanking President Giscard for his initiative in calling us together and inviting us for what has been a very valuable and informal occasion. And, also, I'm sure I'm allowed to say our thanks to the people of Guadeloupe for entertaining us in this most delightful and beautiful island.
I think I can almost forgive the French for recovering it from the British, although, no doubt, though, the occasion will come when we shall have to call for it back again. [Laughter]
Secondly, I'd like to echo what President Giscard said about the nature of the discussions. They have been conducted between four of us who trust each other, who have confidence in each other, and who, I think it is fair to say, are friends. And that makes a very great deal of difference to the quality of the discussion and to the way in which it's conducted. And, as President Giscard said, the discussions have been direct; they have been frank; they have been open. But I think we've all been working towards the same common objectives. And when you are friends, discussing matters with each other, there can be differences of emphasis or nuance which are slight in relation to the attitudes between ourselves but which, if we were not talking as friends, if we were talking elsewhere, would be regarded as very substantial. That has not been the case here, and I want to emphasize this, because so often, differences of emphasis are written up as though they are very great differences of objective. That is simply not true.
And I think this has been a most valuable meeting, as far as I am concerned. It certainly added to our knowledge of each other's point of view. I've heard from my three colleagues their analysis of the world scene in many different facets, and that in itself is an invaluable help in enabling Britain to formulate its own analysis. I think we have, in certain circumstances, been able to comment on each other's analysis and to, perhaps, modify our own positions as a result of it.
But as the President said, we were not reaching decisions here. But the effect will be felt in the discussions that we shall have with all our partners and the various organizations, international organizations, to which we belong.
I'm sorry—[turning to interpreter]did you want to translate that? You're quite happy, are you? [Laughter] That's good. It's well known that everybody speaks very good French.
Now, just two things, if I may. First of all, we heard from President Carter about the SALT agreement. It is reaching its final stages now. He gave us his analysis of the position. Of course, during the whole process there has been continuous consultation. I would like to urge—speaking as someone who is on the other side of the Atlantic—I would like to urge the speedy ratification, the conclusion of the agreement and speedy ratification on both sides, that is, on the United States side and on the Soviet Union.
I think it would be a very sad day if this agreement were not ratified, and the administration will have our support in their efforts when they place it before the American people. And we look forward to the development of a SALT III negotiation, which we believe will be of benefit to US.
I'd like to say just, I think, two other words. First of all, we did review some of the trouble spots of the world. And they are deeply disturbing. Nevertheless, I think it would not be unfair to say that there's a general conclusion that if you take out these highlights that are deeply disturbing, that perhaps the general position of our part of the world is rather more satisfactory—I qualify it in that sense—is rather more satisfactory than it was 2 or 3 years ago, and we met against that atmosphere. And I say that in order to put the matter in perspective.
Finally, I'd like to say that we spent a considerable amount of time on our relations with China. We welcome them into the comity of nations. We do so because she is a great country, but we do not improve our relations with China at the expense of any other country.
Our relations with the Soviet Union are as important to us as our relations with China, and indeed, our relations with the Soviet Union are central to the development of detente, which is so important to us in Europe.
So, I conclude by thanking President Giscard again very much, and thank my colleagues for helping me to get a better understanding of the world during the last 48 hours.
PRESIDENT CARTER. First, I'd like to add my voice of thanks to Valery Giscard d'Estaing, the people of France, and particularly those of Guadeloupe, who have made our visit so delightful, enjoyable, and profitable. Because of the unstructured agenda and the informality of the discussions and the almost unprecedented harmony that exists among us, I have never attended a conference which was more beneficial to me, nor more substantive in nature.
One of the dearest and most valuable assets of the American people, and perhaps even most of the world, is the close harmony, the easy communication, and the common purpose of those peoples who are represented here by myself, by Chancellor Helmut Schmidt, by President Giscard d'Estaing, and by Prime Minister Callaghan.
Most of our discussions were about regional problems and about global issues, because the differences which exist among us bilaterally are very minor and of little consequence.
We have been determined to strengthen even further the valuable ties of friendship and cooperation militarily—for common defense and for peace—politically, culturally, and economically.
Our commitment is to contribute to global peace. And we have observed with interest and gratification that in the last few years, there has been an enhancement in the normalization of relationships among the nations of the world. Former enemies have become friends; potential enemies have sought to avoid violence by -close consultation and negotiations; and existing friendships have been strengthened.
We're all in agreement that the emergence of the People's Republic of China toward the outside world, the Western World, has been one of constructive development. And we are all determined to enhance this development and to assure that it never becomes an obstacle to detente, and that it might possibly be used in the future, we hope, as an avenue of even strengthening our ties of friendship and harmony with the people of the Soviet Union.
We discussed the potential trouble spots of the world, and we tried to capitalize upon the unique opportunity that one or several of us have to alleviate tension, to let the people of those regions find for themselves, with our assistance on occasion, an avenue toward peace, so that stability and development of a better quality of life and enhanced human rights might be continuing throughout those regions where our influence might be felt.
And finally, I would like to thank these experienced leaders for their advice and counsel for me and their constructive support for the efforts in the SALT negotiations and other important international measures in which the American people have taken the lead. This is always of great benefit to me and to my people. And I'm deeply grateful for the relationships that we have enjoyed and, I pray, will continue to enjoy in an enhanced de-

gree in the years to come.

Thank you.
CHANCELLOR SCHMIDT. To speak as the last in a row of four, it's not so very easy to add anything new to what my colleagues already have said, especially when, as it is the case, I'm in full agreement with the remarks you already have heard.
Now I would like—in dealing with the cordiality, the directness, the cooperative friendship in which our discussions have been led—I would like to concede that we made one mistake. We should have had the press invited for at least one session, in order to let it be witnessed by yourselves how friendly the atmosphere really was. [Laughter]
Representing nations who belong to the same alliance, it was, of course, natural that we at some length dealt with security -questions, among which, of course, was of great importance the report that we were given by the American President, by Jimmy Carter, on the progress of SALT II. And I would like to join my British colleague here in stressing that in our view, SALT II is going to be a very important contribution toward stabilizing world peace.
I do hope for early conclusion and, also, for swift ratification thereafter. And as far as my country is concerned, we will take the appropriate opportunity to make this very clear to everybody in the world.
President Giscard d'Estaing already indicated that we also talked about other matters in the field of arms control, which was a chance for me to express my desire to bring about progress also in the field of mutual balanced force reductions. And in this context, of course, we also dealt with the French proposal for a European conference on arms limitation.
Naturally, France, Great Britain, and Germany, having had diplomatic relations with the People's Republic of China already, all of us considered it to be a contribution to normalization in the world that there now should also be diplomatic relationships between the United States and the People's Republic of China.
I think one could sum up this part of our deliberations in telling you that we did agree on the global necessity to stabilize the equilibrium of the world and to carry on detente with the Soviet Union, of course, especially so, including limitation of armaments.
In confirming that we have talked about a number of trouble spots in the world of today, I would, as well, wish to stress what already has been said by two previous speakers, namely, that we all are confident on the present stability of the world, which we consider to be improved as compared with the situation a couple of years ago.
Stability of the world did, of course, include the relationship between industrialized and developing countries, which gave me a chance to directly report to the other three gentlemen about a conference which I recently was participating in, not far away from here, on the invitation of Prime Minister Manley of Jamaica.
In concluding, I wish to express my gratitude to the host of this meeting, my friend, the French President, especially for his hospitality, especially for the initiative which has been taken by him, which has led us here. I would express my personal gratitude to the two Presidents and the British Prime Minister for this very personal exchange of views, of judgments, of information, which I'm quite certain will improve the foundations for decisions which one will have to take in the later course of 1979.
I must confess that I've learned a lot in this meeting, would like to thank the host, to thank the other participants and, in the end, like to thank the people on this wonderful island for the hospitality they have shown to all of us.

Thank you very much.
Note: President Valery Giscard d'Estaing of France spoke at 1:15 p.m. at the Meridien Hotel. He spoke in French, and his remarks were translated by an interpreter. Also speaking were Prime Minister James Callaghan of the United Kingdom, President Carter, and Chancellor Helmut Schmidt of the Federal Republic of Germany.
The 2-day series of meetings was held at the Hamak, a resort located on the southern coast of Grand Terre, Guadeloupe.
Jimmy Carter, Saint-Francois, Guadeloupe Remarks to Reporters Following the Conclusion of Meetings Between the President and Western European Leaders Online by Gerhard Peters and John T. Woolley, The American Presidency Project https://www.presidency.ucsb.edu/node/248747