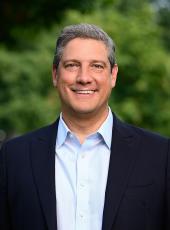 Ryan Campaign Press Release - Tim Ryan Unveils New Plan to Revamp Public Education in America
Ryan's Education Plan Invests $50 Billion to Transform Public Schools
Boston, MA – Democratic Presidential Candidate Tim Ryan today unveiled his plan to treat education as a federal right at the national American School Counselors Association Conference in Boston, Massachusetts -- 3,500 school counselors were in attendance.
Ryan's education platform proposes investing $50 billion in federal programs to transform every public school by giving them the best resources and services America has to offer. Under Ryan's plan, every school would provide student supports and leverage local resources the way LeBron James' I Promise School in Ryan's Congressional District does. But Ryan believes you shouldn't need a superstar to come from your community to have quality education in this country.
Community schools -- like LeBron's school in Akron, Ohio -- are public schools that offer resources such as school meals and social services, before and after school enrichment, collaborative teaching arrangements, and supports such as housing assistance and health care. Ryan's plan will put every public school in the country on a path to becoming a community school, with tailored supports to match local resources to student needs.
"Every child in this country deserves to receive the same high-quality education regardless of their zip code or how much money their parents have in the bank. It is unacceptable that only rich kids get the good stuff when it comes to education – afterschool programs, mental health counselors, highly-trained teachers, healthy lunches, social-emotional learning programs, pathways for family engagement, and new books, technology, and curriculums. By treating education as a federal right, every student will be able to realize their full potential," said Congressman Tim Ryan. "My plan would put a mental health counselor in every school, ensure no child goes to school without air conditioning or heat, and ensure every child in this country receives the education they need to succeed in the 21st century economy."
For every dollar invested in community schools, up to $15 are returned in societal benefits, meaning this investment will generate a significant return to our nation's economy.
Investing in community schools is part of a comprehensive approach to ensuring that all students have access to high-quality educational opportunities. This approach includes policies that fall into four categories: (1) Well-Prepared and Supported Teachers and Leaders; (2) Wraparound Services; (3) Social-Emotional and Academic Learning, and; (4) 21st Century College-and Career-Ready Pathways.
Well-Prepared and Supported Teachers and Leaders are the most important factor in delivering a world-class education. A diverse and well-prepared educator workforce can be supported by expanding residency programs and significantly increasing loan forgiveness and service scholarship programs. These efforts can help to combat teacher shortages and increase recruitment. Professional development, job-embedded training, and health and wellness support for school staff also promote teacher retention. In addition, professional learning communities for teachers and administrators help them collaborate to create student-centered instruction and build the social-emotional skills of students. Further, teachers and leaders deserve to be paid fairly for the invaluable contribution they make to our communities every day. Increased compensation through tax credits for teachers and other school-based personnel will strengthen the profession on which all other professions depend. Finally, collective bargaining is a crucial tool for teachers to negotiate for better wages, benefits, and working conditions. Strong teacher's unions will lead to stronger communities.
Wraparound Services are a key component of community schools. They provide students and their families the support they need to learn effectively. For example, by providing nutritious school meals through salad bars in schools, food pantries, and other locally-sourced nutrition options, students have the energy to participate in class. Additional supports such as mental, social, and physical health services ensure students don't miss out because they have a toothache or lack the glasses they need to see the chalkboard. Schools also benefit from building structures that encourage family engagement, including regular communication with parents and guardians, teacher home visits, and student-parent-teacher conferences.
Social-Emotional and Academic Learning is about teaching our students how to set goals, make responsible decisions, and maintain positive relationships. By instituting social, emotional, and cognitive skills into academic curricula, students learn character in addition to content - improving academic outcomes. They also learn conflict resolution through restorative approaches that emphasize personal responsibility. Overall, students learn the skills to form personalized relationships so they can collaborate and communicate in today's workplaces.
21st Century College- and Career-Ready Pathways are necessary for each student to find how they fit into our economy. Students need multiple systems of support that provide both remediation and enrichment opportunities that ultimately allow them to explore their interests and follow their passions. Before and after school programming, weekend and summer programming, career and technical education, and early college high school programs are also needed for students to explore their interests and follow their passions. Further, the modern workforce necessitates updated school infrastructure including broadband internet access in every classroom, as well as makerspaces where students can engage in creating projects, portfolios, and extended-performance tasks rather than standardized tests to assess performance. Finally, students need curricula and a continuum of high-quality work-based learning opportunities rooted in modern business and industry practices.
Tim Ryan, Ryan Campaign Press Release - Tim Ryan Unveils New Plan to Revamp Public Education in America Online by Gerhard Peters and John T. Woolley, The American Presidency Project https://www.presidency.ucsb.edu/node/365452