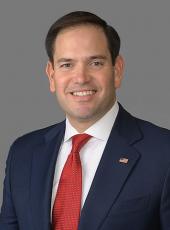 Rubio Campaign Press Release - Wow: Marco Rubio's Georgia Team Is Seriously Impressive
February 12, 2016

Twenty-six new conservative leaders, including Rep. Lynn Westmoreland, have joined Marco's Georgia Leadership Team.

The latest addition came today, with former Georgia Republican Party Chairman Alec Poitevint joining the team. He had this to say:
Having endured almost eight years of President Obama, Americans are frustrated with the direction of our country. I am one of them. The only way to turn it around and advance our conservative cause is to win in November. I believe the only candidate who can do that is Marco Rubio. His conservative values are second to none.
Team Marco also added a ton of new members earlier this week.
Marco Rubio adds to Georgia leadership team https://t.co/UojjsT1eXs #gapol

— Jim Galloway (@politicalinsidr) February 8, 2016
Georgia votes on March 1 in the so-called SEC Primary.
Rep. Austin Scott, who chairs Marco's Georgia effort, says it's a clear sign of enthusiasm:
The momentum behind Marco's campaign is undeniable, and we are excited to add an impressive list of Georgia leaders to the team today.

Republicans across the country are rallying behind Marco because he has an optimistic vision for our nation and a detailed plan to usher in a New American Century. Georgians will play a very important role in ensuring we nominate the candidate best suited to defeat Hillary Clinton or Bernie Sanders in November, and I look forward to working with this outstanding team to energize voters as we approach the March 1 primary.
State Senator Dean Burke, of Bainbridge, praised Marco's record:
A lot of politicians in Washington have talked about the harmful impact Obamacare is having on families across the country but few have actually done anything about it.

Early on, Marco warned of a taxpayer bailout of the insurance industry, and he succeeded in stopping it, already saving taxpayers $2.5 billion. That's the kind of leader we need in the White House, someone who can not only identify problems but can implement solutions.
Team Marco in Georgia held a press conference to highlight the big additions:
Georgia's Marco endorsers rally at the Cap to highlight growing momentum. (I did the signs.) #Rubio2016 pic.twitter.com/SnuTwLGuVg

— Brian C. Robinson (@LordTinsdale) February 8, 2016
Check out the full Georgia Leadership Team:
Marco's Georgia State Chairman:
U.S. Representative Austin Scott
New Members of Marco's Georgia Leadership Team:
U.S. Representative Lynn Westmoreland
Mike Beaudreau — Former Gwinnett County Commissioner
Brian Brodrick — Watkinsville City Councilman
State Senator Dean Burke — Bainbridge
State Representative Sharon Cooper — Marietta
State Representative John Corbett — Lake Park
State Representative Robert Dickey — Musella
Mayor Bill Dunaway — Former Mayor of Marietta
Mayor Steve Edwards — Mayor of Sugar Hill
State Representative Barry Fleming — Harlem
Councilman Dick Goodman — Suwannee City Council
Bob Irvin — Atlanta, Former State House Republican Leader
Matthew Krull — Douglas County Solicitor General
State Representative Chuck Martin — Alpharetta
Councilwoman Linnea Miller — Suwannee City Councilwoman
State Representative Randy Nix — LaGrange
Councilman Derek Norton — Smyrna City Councilman
State Representative Jesse Petrea — Savannah
Alec Poitevint — Former Republican Party of Georgia Chairman
State Representative Tom Rice — Norcross
State Representative Jason Shaw — Lakeland
Jerry Shearin — Former Paulding County Chairman
State Representative Ron Stephens -Savannah
Will Wade — Dawson County School Board Chairman
State Senator Tommie Williams — Lyons
Stone Workman — Monticello Mayor Pro Tempore
Previously Announced Members of Marco's Georgia Leadership Team:
State Representative Buzz Brockway — Lawrenceville
Jace Brooks — Gwinnett County Commissioner
State Representative Michael Caldwell — Woodstock
Chuck Clay — Former Georgia GOP Chairman, State Senator and Cobb County Commissioner
Zakery Daniel — Hampton City Councilman
Dick Donovan — Paulding County District Attorney
State Representative Mike Dudgeon — Cumming
State Representative Geoff Duncan — Cumming
State Representative Chuck Efstration — Dacula
State Representative Gerald Greene — Cuthbert
Brandon Hembree — Sugar Hill City Councilman
State Senator Judson Hill — Marietta
State Senator Rick Jeffares — Locust Grove
State Representative Trey Kelly — Cedartown
Ryan Leonard — Douglas County Assistant District Attorney
State Senator PK Martin — Lawrenceville
Rey Martinez — Loganville City Councilman
State Representative Howard Maxwell — Dallas
Mayor Teresa Philyaw — Mayor of Hiram
State Representative Matt Ramsey — Peachtree City, State House Majority Whip
State Representative Bert Reeves — Marietta
Vic Reynolds — Cobb County District Attorney
Gabriel Sterling — Sandy Springs City Councilman
Shannon Wallace — Cherokee County District Attorney
Cris Eaton-Welsh — Kennesaw City Councilwoman
State Representative Bill Werkheiser — Glennville
Marco Rubio, Rubio Campaign Press Release - Wow: Marco Rubio's Georgia Team Is Seriously Impressive Online by Gerhard Peters and John T. Woolley, The American Presidency Project https://www.presidency.ucsb.edu/node/325954