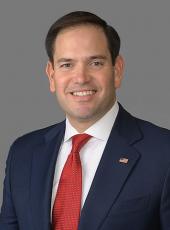 Rubio Campaign Press Release - Why Is Ted Cruz Lying about Marco Rubio's Pro-Life Record?
February 13, 2016

Friday night in South Carolina, Ted Cruz claimed that he and Marco disagree about defunding Planned Parenthood. The facts in Marco's record say otherwise.
This is a desperate politically motivated attack: Marco has a sterling pro-life record, has consistently voted to defund Planned Parenthood, and would make it a priority to protect life as President.
Here's just how dishonest Cruz's attack is: The nonpartisan group National Right to Life has totally rejected it as "inaccurate and misleading."
Statement from @nrlc president @CarolTobias1 on Rubio/Cruz & defunding PP: pic.twitter.com/KeeJ8Vaw3q

— Andrew Bair (@ProLifePolitics) February 13, 2016
And pro-life conservatives didn't just reject the attack — they were disgusted by it.
Congressman Trey Gowdy said he's "bitterly disappointed" by Cruz's attack:
Marco is passionately committed to the pro-life cause and has repeatedly voted to defund Planned Parenthood. Marco's unwavering defense of life is one of the reasons I so enthusiastically support him. I am bitterly disappointed Ted Cruz would try to intentionally mislead my fellow South Carolinians. The sanctity of life is not a political issue to many of us.  It is a moral, spiritual and human rights issue. I am not surprised when Democrats like Debbie Wasserman Schultz and Nancy Pelosi distort Marco's record.  I am surprised and disappointed when Ted Cruz does it.
And here's what former senator Rick Santorum — who led the charge to ban partial-birth abortion — said it's a "disservice to the pro-life cause":
Marco Rubio has been and always will be a staunch defender of life. For Ted Cruz to suggest otherwise is a disservice to the pro-life cause. We should be united in our fight to defund Planned Parenthood. Trying to create divisions and pit passionate pro-life leaders against each other is a disservice to the innocent unborn babies relying on us for help. We need a leader like Marco who can unite conservatives in the fight for life, not people like Ted Cruz who choose to weaken the pro-life movement for political gain.
Conservative activists were turned off, too:
This is jaw-droppingly dishonest https://t.co/d2uZJZdk9b

— Ellen L. Carmichael (@ellencarmichael) February 13, 2016
As a Cruz supporter, it's very, very difficult to buy any claim that Rubio is not a full-throated supporter of ending abortion in every form

— Charlie Cafazza (@Cafazza) February 12, 2016
Honestly I'm waiting for a Cruz supporter to condemn these baseless attacks on Rubio. It's getting to be gross
https://t.co/YLp1esnnOJ

— GSimms (@GSimmsTrades) February 13, 2016
Marco has a 100 percent rating from both National Right to Life and the Family Research Council.
He'll fight for life — as he said at the last debate, he'd rather lose an election than be on the wrong side of the issue.
Anyone telling you otherwise is lying about Marco's record and Marco's beliefs.
Marco Rubio, Rubio Campaign Press Release - Why Is Ted Cruz Lying about Marco Rubio's Pro-Life Record? Online by Gerhard Peters and John T. Woolley, The American Presidency Project https://www.presidency.ucsb.edu/node/326015