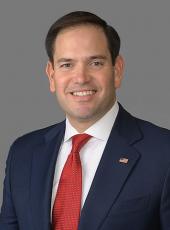 Rubio Campaign Press Release - When Trump Bailed on a Fort Lauderdale Development, Floridians Paid the Price
When Donald Trump Cut and Run From a Fort Lauderdale Project, Floridians Were Left on the Hook
March 13, 2016
A Donald Trump project in Fort Lauderdale left a number of Floridians high and dry, as he pulled out and made millions.
The Miami Herald says this Trump failure "has now emerged as a campaign issue that threatens to follow the GOP frontrunner through the presidential race." From their story:
The buyers at Trump International Hotel & Tower said they thought they were getting a ticket to an exclusive club, a highrise developed by Donald Trump offering a five-star restaurant, $3 million penthouses and sweeping views of the Atlantic Ocean.

What they actually got: a hulking, empty concrete shell that was built by someone else, and ran out of money long before it was completed.
Donald Trump tapped a shady executive to oversee the project, and when things went south, he announced he was ending the licensing deal that put the Trump name on the project.
A number of those who lost out in the project are now embroiled in legal battles:
"It was an outright lie," said J. Michael Goodson, a buyer and former Wall Street investment banker who has pending litigation against the real estate mogul. "I thought the last thing Donald Trump would do was walk away."
Trump's defense? He wasn't the developer of the project, he just provided the name.
But that's not what many of the buyers were led to believe:
In addition, many investors agreed to buy units only because they believed Trump had a stake in the project.

The Pembroke Pines lawyer points to dozens of brochures, letters with Trump's signature and other promotional materials that gave his clients the impression the billionaire was in charge.

"Here," he said in a recent interview. "The letter says, 'It is with great pleasure that I present my latest development.' How were they supposed to know he wasn't the developer? He said this is 'my development.' I was representing them, and I even thought he was the developer."
While Trump got to keep his initial licensing fees, the buyers at Trump International Hotel & Tower are still trying to get back what they lost.
Floridians shouldn't be conned into believing Trump's promises on Tuesday.
Marco Rubio, Rubio Campaign Press Release - When Trump Bailed on a Fort Lauderdale Development, Floridians Paid the Price Online by Gerhard Peters and John T. Woolley, The American Presidency Project https://www.presidency.ucsb.edu/node/314143