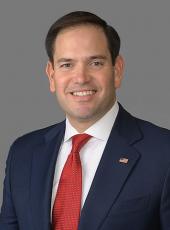 Rubio Campaign Press Release - What Marco Rubio Gets about Gitmo That President Obama Doesn't
February 28, 2016
By Congressman Mike Coffman (R-CO)
On February 17th, Fox News reported that an inmate released from the U.S. military prison in Guantanamo Bay had become a prominent star of Al-Qaeda in the Arabian Peninsula's propaganda videos. The individual is Ibrahim al Qosi, a former aide to Usama bin Laden who was jailed in Guantanamo Bay in 2002. He pled guilty to war crimes in 2010 and somehow made it on to the Obama administration's list of detainees to be released in 2012. Now, he's on the internet calling for jihad against America.
This incident shows that we need a Commander-in-Chief who is willing to do what is necessary to keep Americans safe.  That is why I am supporting Marco Rubio for President.
Unlike Barack Obama, Marco realizes that the detainees at Guantanamo are hardened terrorists who should not be allowed brought into our communities here in Colorado.  Last July, two former detainees were arrested in Belgium as part of an Al-Qaeda recruiting cell. Last March, House Homeland Security Committee Chairman Michael McCaul (R-Texas) said nearly one in three prisoners released from Guantanamo were confirmed or suspected by U.S. intelligence to have returned to terrorist activities.
And yet, this past week, the Obama administration reiterated its intention to close Guantanamo, releasing dozens of the ninety-one remaining prisoners and transferring dozens more to American states like Colorado. In October, officials from the Defense Department visited two sites in Colorado to consider them as locations to which to transfer these high-risk terrorists. They examined the Federal Correctional Complex in Florence and the maximum-security state prison in Cañon City.
President Obama has stubbornly held to this initiative for political purposes, to make good on a campaign pledge, rather than protect the people of Colorado and the rest of the United States. Thankfully, Colorado is being protected by its representatives, and the few politicians who prioritize and understand national security, like Marco Rubio.
Marco has worked with me in the Senate to steadfastly oppose this dangerous and misguided initiative. He has blocked President Obama from utilizing funds to close Guantanamo and sponsored and supported bills to prohibit the Defense Department from transferring prisoners to the United States.
Unlike Senator Cruz, he has consistently supported the annual defense authorization act that has prevented President Obama from putting his legacy over the safety and security of Coloradans and their families.
The facility in Guantanamo contributes to safety of our homeland, both by producing intelligence and providing a safe location in which to incarcerate dangerous terrorists. Replacing it would require millions of dollars to either improve an existing facility or construct a new one. And that new facility would then become a target, along with the community hosting it. In November, 41 Colorado sheriffs signed a letter to President Obama asking him not to transfer Guantanamo detainees to our state, stating their belief that it would make the prison and the community targets for international terrorists.
The Obama administration asserts the Guantanamo facility is a rallying point for terrorist organizations. But President Obama and the Democratic Party are basing this assessment on liberal dogma, not established fact. The truth is that the facility at Guantanamo has never been a pillar of ISIS or Al-Qaeda propaganda. And even if it were true, how would any new facility not immediately take Guantanamo's place in the long list of reasons the terrorists seek the demise of our country?
Contrary to current policy, more terrorists should be interned at Guantanamo, not fewer. Our troops and intelligence officers have been hampered for seven years by President Obama's refusal to let them bring new detainees to Guantanamo, forcing them to turn the terrorists over to partner nations and losing valuable intelligence in the process.  Marco has made clear that when he is President, if terrorists are captured alive, they will get a one way ticket to Guantanamo and we will find out everything they know.
This country needs a commander-in-chief who will put national security first and won't endanger states like Colorado with politically-driven policies. We need a president who understands this is a war on terror and not a law enforcement operation. We need a president who understands the enemy in this war — radical Islam — and does not fear to speak its name, unlike President Obama, Hillary Clinton and Bernie Sanders. And we need a leader who understands that terrorists who plot to attack our homeland should be kept in Guantanamo and not in our backyards. Marco Rubio has been that kind of senator. Marco Rubio would be that kind of president.
Marco Rubio, Rubio Campaign Press Release - What Marco Rubio Gets about Gitmo That President Obama Doesn't Online by Gerhard Peters and John T. Woolley, The American Presidency Project https://www.presidency.ucsb.edu/node/325997