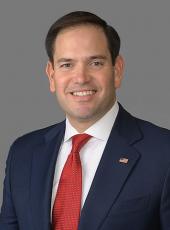 Rubio Campaign Press Release - Want to caucus for Marco Rubio in Iowa? Here's everything you need to know.
Are you from Iowa? Do you like Marco Rubio?
The time to show it is February 1, 2016, at your local Caucus.
Here's how you do it:

Step One: Make sure you are a registered Republican voter!
If you are a registered Republican, great!

If you can't register before, don't worry, you can register as soon as you walk into your Caucus location.
In order to register to vote at your Caucus location, you will need a valid photo ID or student ID from an Iowa educational institution, and you need to be 18 years old by November 8, 2016. The best form of ID is an Iowa driver's license with your current address. If your address is not current, you must provide a valid proof of residence.
Step Two: Make sure you know your Caucus location!
If you have your voter registration card, your precinct is listed on it.
Each precinct's Caucus location is listed on the Republican Party of Iowa's website.
If you don't know your precinct, you can find it on the Iowa Secretary of State website.
Step Three: Show up and vote on Caucus Day, Monday, February 1, 2016!
You need to arrive at your Caucus location between 5:45 PM and 6:50 PM.
You must bring a valid form of ID to be eligible to participate. It's easiest just to bring your driver's license, but you can also use a current lease, utility bill, bank statement, or paycheck stub.
Then here's what happens:
Caucus business begins promptly at 7:00 PM with a call to order.
After the Pledge of Allegiance and a series of votes for Caucus chair — that's the person who will organize and lead the meeting — the "Presidential Poll" will begin.
Representatives of each candidate will speak for 2 minutes, and it'll happen in alphabetical order by candidate's last name.
If you want to step up as a leader at your location, reach out to our Iowa team at 515-635-4716.
After all of the representatives have spoken, you will be given a ballot.
This is the big moment: That's when you write down "Marco Rubio" and give your ballot to the collector.
After you have caucused for Marco, you may leave. You do not have to stay for the remainder of the Caucus (where party business will be discussed) unless you want to.
That's it! Caucusing for Marco is that simple. 
Marco Rubio, Rubio Campaign Press Release - Want to caucus for Marco Rubio in Iowa? Here's everything you need to know. Online by Gerhard Peters and John T. Woolley, The American Presidency Project https://www.presidency.ucsb.edu/node/313150