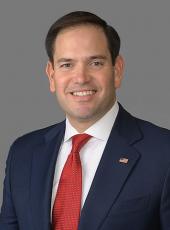 Rubio Campaign Press Release - Virginia's Biggest Paper Doesn't Usually Endorse Presidential Candidates, But...
Virginia's largest paper, the Richmond Times-Dispatch, noted in its editorial today that it usually doesn't make endorsements in primary races:
Except in extraordinary circumstances, The Times-Dispatch refrains from making endorsements in nominating contests if the general election in November will be competitive. But these qualify as extraordinary times, at least in the realm of presidential politics. After considerable reflection, we have decided that standing on the sidelines as Virginians go to the polls Tuesday would be a dereliction of our duty — our duty to encourage civil public engagement as well as our duty to help readers sort through the confusion that inevitably accompanies a vibrant republic. . . .

[I]t is the flaws of two men seeking the Republican nomination that pushed us into abandoning our usual practice of making a presidential endorsement in the waning weeks of October.
And who do they believe is the right candidate — who can stop Donald Trump, and beat Hillary Clinton, too?
Marco.
Fortunately, there's no need for the nation to face a choice between extremists and truth-benders. And Virginians are in a position to help ensure Americans have a better option come November.

Marco Rubio boasts a compelling life story — the son of Cuban immigrants who worked their way to the American dream. We live in an era that needs more tales of success, in a welcoming country, built on sacrifice, effort, and integrity. More important, Rubio understands the significance of his family's ascent — and is able to express the foundational optimism that makes America exceptional.
On Tuesday, Virginians will vote in the state's presidential primary, which arrives at a crucial moment. If America is to step forward to regain its optimism, its strength, its gift for broadly growing prosperity, we must choose a leader who reflects those indispensable qualities. We believe that candidate is Marco Rubio. The alternative is a President Trump or — far more likely — another President Clinton.
Marco Rubio, Rubio Campaign Press Release - Virginia's Biggest Paper Doesn't Usually Endorse Presidential Candidates, But... Online by Gerhard Peters and John T. Woolley, The American Presidency Project https://www.presidency.ucsb.edu/node/326193