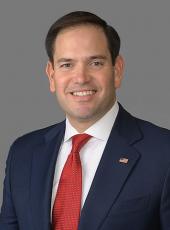 Rubio Campaign Press Release - This Clip of Marco Rubio Has People Talking
Conservatives Praise Marco's Powerful Response to Donald Trump
March 14, 2016

Marco's weekend press conference where he responded to recent violence at Donald Trump rallies is going viral. In case you missed it:
Conservatives around the country say Marco's response was amazing — that it shows what true leadership looks like.
Erick Erickson from the conservative outlet The Resurgent says Marco is right:
Marco Rubio had a press statement and he gets it exactly right. Trump uses the rhetoric of a third world dictator and the protestors are really no better. The media, which often laments the lack of leaders and adults in American political discourse, tut-tut what is happening then plays it up for ratings.

We should all be ashamed of what is going on. There are no clean hands in this, but there are a lot of people who have descended to, "Well, he started it."
The speech of someone vying to be leader of the free world has consequences, and conservatives are glad Marco said what they were thinking.
This is magnificent, and I recommend you watch the whole thing. I don't care whom you support, this needed saying. https://t.co/BKdL28pGNu

— Charles C. W. Cooke (@charlescwcooke) March 13, 2016
Whoa: Marco Rubio with a powerful statement on Trump's rally violence, leadership, and the consequences of speech. https://t.co/HZfAXN4RDw

— Andrew Todd (@mistertodd) March 14, 2016
Marco Rubio says if Donald Trump is nominee, 'the Republican Party's going to be defined by' violence — NBC News https://t.co/NHVp4ZKPCi

— Elizabeth Llorente (@Liz_Llorente) March 12, 2016
This presser from Marco Rubio is about as unguarded and unscripted as you'll see a candidate before convention time: https://t.co/UvTs48LETH

— Markham Nolan (@markham) March 14, 2016
"I think that all the gates of civility have been blown apart"... Rubio https://t.co/2SHHbJAcOK

— Emily Wilson (@emilyhwilson) March 13, 2016
We don't have to be defined by violence and anger — we can rise above it with the right kind of leadership.
Marco Rubio, Rubio Campaign Press Release - This Clip of Marco Rubio Has People Talking Online by Gerhard Peters and John T. Woolley, The American Presidency Project https://www.presidency.ucsb.edu/node/326216