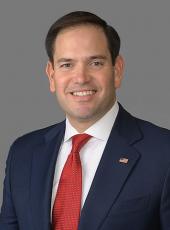 Rubio Campaign Press Release - Marco Talks About His "Stellar" Debate Performance
Take a look at highlights of Marco on the morning news circuit discussing his stellar debate performance.
FOX News' FOX & FRIENDS

The Democrats have the ultimate super PAC it's called the mainstream media. The mainstream media is going around saying it was the greatest week in Hillary Clinton's campaign. It was the week she got exposed as a liar.
ABC's Good Morning America

I'm the one that's shown the best judgment and best understanding on the foreign policy threats before our country in the 21st Century.
NBC's Today Show

It's an incredible honor to serve in the United States Senate. I enjoy very much to serve the people of Florida. For me, we serve real people every day. The veteran who has to fight for his disability benefits and prove he's disabled even though he's missing both legs in combat, or the elderly couple who experienced tax fraud. I enjoy that very much and we're going to continue to do it.
CBS This Morning

My campaign is not going to be about attacking anybody else. My campaign is going to be who I am and what is important for our country and the future of America and that's what I'm going to continue to focus on and it isn't going to change my feelings toward Jeb or anyone else in the race, I'm not running against them, I'm running for President.
CNBC's Squawk Box

One of the issues that is confronting our country today is that we have millions of people that are struggling, wages really really haven't climbed in this country fast enough, and the cost of living over the last 10 or 15 years have increased primarily because there's new costs associated with the 21st Century. For example, in 35 out of 50 states, child care is more expensive than going to college. So what are we going to do to raise wages in America? It's has to be the combination of making us the easiest and best place in the world to create the best paying jobs of the 21st Century, and combine that with allowing people to acquire the skills they need for the better paying jobs. We have a massive disconnect in this country between the skills the 21st Century requires for higher paying jobs and what many of our people have.
CNN's New Day

I would just say that when it comes to this issue of Social Security and Medicare, these programs enjoy strong support in the Republican Party. Even among our most conservative members. They understand it is now a reality that people depend on, and you can't just yank it away from them ... But ultimately, in order to get these things passed, we've got to be able to work with people to get it done. What I'm not going to do is raise taxes or ignore the problem, or tell people, you know, at the end of the day there's no problem with this. Anyone who says you can leave these programs exactly the way they are is not being honest. There's going to have to be changes for future generations if we want to keep it exactly the way it is for current beneficiaries.
Marco Rubio, Rubio Campaign Press Release - Marco Talks About His "Stellar" Debate Performance Online by Gerhard Peters and John T. Woolley, The American Presidency Project https://www.presidency.ucsb.edu/node/326079