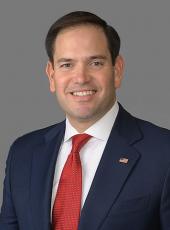 Rubio Campaign Press Release - Marco Rubio Says ISIS Is the 'the Best Funded, Best Organized, and Fastest Growing Terrorist Threat in the History of the World'
January 13, 2016

Marco was asked last night whether he thought President Obama's State of the Union underestimates the threat from ISIS and other terrorist groups.
Here's what he had to say:
No one is saying [ISIS is] going to overthrow the U.S. government. What we are saying is in the process of attacking us, hundreds of thousands of americans could find themselves in situations over the next ten years where they're threatened in one way or another by what's happening [with ISIS.]

That is the threat they pose. This is a sophisticated group now, that is figuring out how to use our immigration system to get fighters in here, not to mention growing their affiliate branches around the world. And so they pose a very significant threat.

Let me put it to you this way: They're the best funded and fastest growing terrorist group in the history of the world and need to be confronted for what they are: a growing and looming threat. This is the same president that called them a JV team two years ago.
Marco has laid out a detailed plan to destroy ISIS, and with every passing day, the need for a real leader who can take on radical Islamic terrorism grows.
Marco Rubio, Rubio Campaign Press Release - Marco Rubio Says ISIS Is the 'the Best Funded, Best Organized, and Fastest Growing Terrorist Threat in the History of the World' Online by Gerhard Peters and John T. Woolley, The American Presidency Project https://www.presidency.ucsb.edu/node/326041