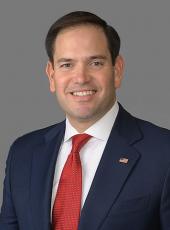 Rubio Campaign Press Release - Marco Rubio: "Even One Abortion Is Too Many"
January 19, 2016

Marco will fight for life, and has for his entire career.
Marco Rubio in Waverly, Iowa: "I am pro-life. I am proud to be pro-life, and I will never change my position on that issue."

— Steve Peoples (@sppeoples) January 18, 2016
In an op-ed for Iowa's Quad-City Times, Marco makes the case for life.
Never have the threats to innocent life been worse than they are now, Marco writes:
For the first time ever, Planned Parenthood has endorsed someone for president in a primary. It is now abundantly clear that if Hillary Clinton is elected, she will pursue the most radical pro-abortion agenda in American history. She must be stopped. And with your help, she will be.

All human life is worthy of the protection of our laws. Even one abortion is too many. Yet despite the fact that the pro-life movement continues to grow, we have not yet persuaded enough Americans to join the effort to protect life once and for all. If I am our party's nominee, I will work every day to change that.

Throughout my time in public service, I have sought, whenever possible, to protect life. I've worked to prohibit abortion after twenty weeks, when science tells us an unborn child can feel pain. I've led the fight to require parental notification when a minor is taken across state lines for an abortion.
Hillary Clinton has already attacked Marco for defending life, but he won't back down.
Marco's right — all human life is worthy of protection.
Marco Rubio, Rubio Campaign Press Release - Marco Rubio: "Even One Abortion Is Too Many" Online by Gerhard Peters and John T. Woolley, The American Presidency Project https://www.presidency.ucsb.edu/node/326012