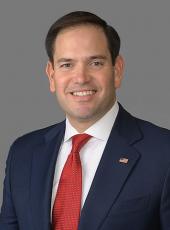 Rubio Campaign Press Release - Marco Rubio Is Drawing Huge Crowds in South Carolina
February 11, 2016

Marco hit the ground running in South Carolina on Wednesday, and his barnstorm across the "First in the South" state continued yesterday.

Marco kicked the day off with a huge event in Sun City.
People are starting to file in for Marco Rubio's town hall in Sun City. If the wifi cooperates we'll have more soon. pic.twitter.com/YkOT61cpVH

— Matt McNab (@IPBG_Matt) February 11, 2016
Marco Rubio in Sun City, SC: "I will never ask you to be angry at another group of Americans in order to win an election."

— Steve Peoples (@sppeoples) February 11, 2016
Marco also took plenty of questions from the press, including a few over breakfast and more after his event.
Lots of media time for Marco. After bfast w reporters today & 45min gaggle yesterday he just took more Qs post-rally pic.twitter.com/iErO4NQ0Ql

— erica orden (@eorden) February 11, 2016
His event in Myrtle Beach was even bigger than anticipated:
Staff bringing more chairs in before Rubio's Myrtle Beach town hall. pic.twitter.com/uY8kI9py0q

— Zeke Miller (@ZekeJMiller) February 11, 2016
HAPPENING NOW: Marco Rubio speaking in Myrtle Beach at the Crown Reef Resort. pic.twitter.com/YwtpD0MvzX

— Lisa Gresci (@Lisa_Gresci) February 11, 2016
Amazing listening to @marcorubio speak this afternoon in myrtle beach @SC7forRubio #TeamRubio #Marco pic.twitter.com/Hy5DFJb0I1

— Matt Attack (@MattMortka) February 11, 2016
Myrtle Beach Mayor John Rhodes was in attendance, and officially backed Marco today. Here's what the mayor had to say:
After listening to Marco Rubio yesterday, I am convinced he is the right choice to lead our party into the general election. Marco bridges the gap between older voters and the next generation. I've never seen so many 18 year olds from Myrtle Beach High School so fired up about a Republican presidential candidate. Their excitement stems from Marco's talent for communicating our shared conservative principles in a manner that connects with voters on a human level. Terri and I are proud to endorse Marco because he is a strong conservative and the only candidate who can unite Republicans while attracting new voters to our cause.
His final event in Simpsonville? Another packed house for Marco.
Huge crowd waiting on @marcorubio here in Simpsonville! #EarnIt pic.twitter.com/5vvlJIEgg7

— John Partin (@j_partin95) February 11, 2016
Pretty long line of people waiting for the doors to open at the Rubio event in Greenville, SC.

A photo posted by Ryan Nobles (@ryanobles) on Feb 11, 2016 at 11:52am PST
Marco Rubio, Rubio Campaign Press Release - Marco Rubio Is Drawing Huge Crowds in South Carolina Online by Gerhard Peters and John T. Woolley, The American Presidency Project https://www.presidency.ucsb.edu/node/326092