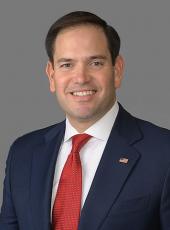 Rubio Campaign Press Release - Iran Deal Undermines Our National Security
Marco leads the fight in Washington against this dangerous deal
Earlier this week, President Obama announced that a deal had been negotiated during nuclear weapons talks with Iran. Here's a look at Marco's response to this bad deal:
Congress Must Oppose This Deal
Reuters reported on Marco's initial reaction to the deal on Monday:
"I have said from the beginning of this process that I would not support a deal with Iran that allows the mullahs to retain the ability to develop nuclear weapons, threaten Israel, and continue their regional expansionism and support for terrorism," Rubio said in a statement.

"Based on what we know thus far, I believe that this deal undermines our national security."
This Is a One-Sided Deal
Watch Marco's interview with Martha MacCallum on FOX News Wednesday morning, where he points out that the celebrations in Tehran should be an indication of how bad the deal is for the US:
Hillary Clinton Is Not Ready
On Tuesday, Marco published an Op-Ed on Breitbart.com highlighting flaws of the deal and Hillary Clinton's role in the initial secret negotiations:
It is clear that Secretary Clinton is no more ready for this challenge than President Obama was. She and her team started the secret diplomacy with Iran that led to this deeply flawed agreement. Within hours of the deal's announcement she hailed it as "an important step."

In the end, this should have been a confrontation between a superpower and an illegitimate third-rate autocracy. Instead, the Obama/Clinton team settled for trading carrots and sticks and hoping for elusive signs of moderation from cruel theocrats. President Obama's capitulation has made it more difficult, but not impossible, to prevent a nuclear Iran.

Only a determined strategy of coercion by the next President can still ensure that the Islamic Republic abandons its quest for nuclear weapons and rolls back Iranian hegemonic ambitions in the Middle East. The immediate challenge for Congress is limiting the damage until January 2017.
Marco Demands Unconditional Release of Imprisoned Americans
On Friday, Marco sent a letter to Secretary of State John Kerry, as reported by the Washington Times:
"I am profoundly disappointed that the agreement with Iran did not ensure the unconditional release of American citizens: Jason Rezaian, Pastor Saeed Abedini and Amir Hekmati, as well as any progress in obtaining information about the fate of my constituent former FBI agent Robert Levinson," wrote Mr. Rubio, a 2016 GOP presidential candidate, in a letter dated July 17.

"I am disturbed by how the administration has missed an opportunity to make the freedom of these Americans a priority in your negotiations with Iran," Mr. Rubio wrote. "Despite your claims that these negotiations were only about Iran's nuclear program, Iran successfully obtained non-nuclear concessions from these negotiations that will aid its efforts to sow terror and instability throughout the Middle East. These American citizens deserve to be released unconditionally, and I urge you to use every tool at your disposal to secure their freedom."
Marco Rubio, Rubio Campaign Press Release - Iran Deal Undermines Our National Security Online by Gerhard Peters and John T. Woolley, The American Presidency Project https://www.presidency.ucsb.edu/node/313503