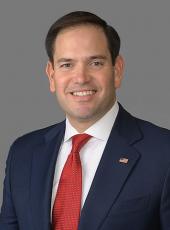 Rubio Campaign Press Release - As Iowa Momentum Grows, Marco Rubio Nabs State's Biggest Endorsement
January 23, 2016

The Des Moines Register, Iowa's largest newspaper, just made their endorsement. It's Marco.
This is a huge deal ahead of the February 1st caucuses.
Rubio snags big endorsement from Des Moines Register https://t.co/JlsG8ClizX

— Jim Acosta (@Acosta) January 23, 2016
Massive #IACaucus news -> @DMRegister endorses @marcorubio https://t.co/abIU5c0QKk

— Curtis Houck (@CurtisHouck) January 23, 2016
Good news for Marco: On GOP side, the Des Moines Register has endorsed the eventual nominee every time since 1996. https://t.co/7asfe3OUw0

— Matt Viser (@mviser) January 23, 2016
Some recent history: The paper endorsed Joni Ernst in the 2014 Senate primary and Mitt Romney in 2012 presidential caucus and general election.
Citing Marco's impressive grasp on the issues and forward-thinking attitude, the editorial board is urging Iowans to caucus for Marco on February 1st:
In two meetings with the editorial board, the whip-smart senator displayed an impressive grasp of public policy detail, reeling off four-point plans on foreign policy and other issues. He proposes overhauling higher education and promoting vocational training, helping workers threatened by automation acquire skills rewarded by a new economy.

Rubio would prime that new economy by embracing innovation. He would auction off portions of the wireless spectrum controlled by government, allowing freer flow of online traffic. He'd remove barriers to enable the next Uber to take off. He'd require a cost-benefit analysis of federal regulations.
Marco is gaining major support at exactly the right time.
With just over a week before voting begins, this confirms what we already knew — Marco is the right choice for the next generation of conservative leadership.
Marco Rubio, Rubio Campaign Press Release - As Iowa Momentum Grows, Marco Rubio Nabs State's Biggest Endorsement Online by Gerhard Peters and John T. Woolley, The American Presidency Project https://www.presidency.ucsb.edu/node/325876