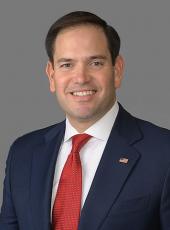 Rubio Campaign Press Release - How Marco Rubio Has Fought to Reduce Sexual Assault on Campus -- and Protect Due Process Rights
As a Senator, Marco has heard stories of sexual assault on campus, and of schools badly mishandling allegations and investigations. He's heard from victims — both of assaults, and accusations gone wrong. He's also heard from campus administrators who feel stuck between conflicting statutes, shifting regulations, and damaging cultural forces. And he has four children — boys and girls — who are on their way to college some day.
So in 2014, Marco joined a bipartisan group of senators to co-sponsor the Campus Accountability and Safety Act, which aims to improve the handling of sexual assault on campus while protecting the rights of the accused. Republicans supporting the bill include Senators Joni Ernst and Chuck Grassley.
We don't need to buy into the Left's overheated rhetoric and misleading statistics about campus sexual assault to believe something should be done. Of course, the government's role is also limited: Many of the problems of campus life are connected with broader cultural issues, weakened values, and the plague of substance abuse.
Incidences of sexual violence are among the most serious and destructive crimes imaginable; they should be taken seriously whether they occur on campus or anywhere else in America.
A few important principles should govern the handling of such a crime: Perpetrators of sexual violence should face the same system of punishment no matter who they are; those accused of sexual assault should have their due process rights respected; victims should get the support they need to heal; and wherever possible, the cases should be handled by the criminal justice system.
Those are the main issues the bill tackles: It requires that every university enter into a Memorandum of Understanding with local police departments, so that law enforcement and campus personnel are best trained, prepared, and equipped to handle allegations of sexual violence on campus. The bill also requires that every school have a confidential advisor that a victim can speak to understand his or her options following sexual violence, including how to pursue a criminal complaint. These two measures together would help make it more likely crimes of sexual violence will be reported and prosecuted.
Second, the bill protect due process rights without more federal micromanagement: It simply requires that schools notify an accused student within 24 hours of the decision to move forward with a disciplinary proceeding, offering the details of the complaint, the process followed, and the due process rights of each party.
Third, it includes an important prohibition against schools operating, in the case of sexual violence, any special campus disciplinary procedures for athletes, honor students, or any other favored subgroup.  Whatever policies universities have in this area must be uniform for everyone on campus.
Marco has fought successfully to exclude the key items on the left's wish-list. The bill does not adopt "affirmative consent" (known as "Yes-means-yes") as a national standard for campus sexual assault. Nor does it legislate a "preponderance of the evidence" standard for campus disciplinary proceedings.
Those ideas are an assault on notions of fair play and due process, and Marco would not stand for them. Opponents claiming that this bill includes or promotes them do are relying on guilt by association or simply no evidence at all.
Sexual assault can destroy lives, but so can false allegations of sexual assault. One need only review recent news reports to know that false allegations do, in fact, happen. Certainly, we should make additional efforts to protect due process on campus. Most importantly, as President, Marco would swiftly move to stop the Department of Education's Office of Civil Rights's assault against due process rights.
The Campus Safety and Accountability Act is not a perfect bill. It is a compromise, but it is a step in the right direction on a pressing problem. Sexual assault should not be a partisan issue, and the modest steps forward under consideration will improve the situation for the millions of students and their families who've put their trust in universities and law enforcement.
Marco Rubio, Rubio Campaign Press Release - How Marco Rubio Has Fought to Reduce Sexual Assault on Campus -- and Protect Due Process Rights Online by Gerhard Peters and John T. Woolley, The American Presidency Project https://www.presidency.ucsb.edu/node/325910